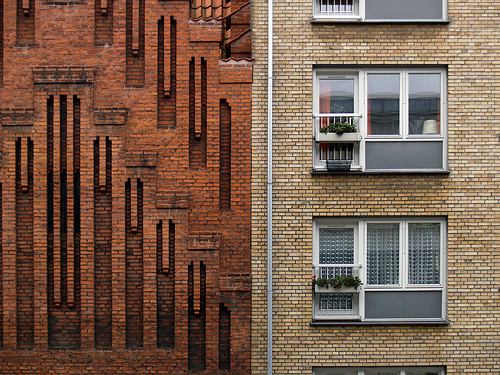 Do you consider yourself middle class? Are you comfortable with your status? Are you more aware of people who have less than you or people who have more?
I've been thinking a lot lately about work, income, and how it translates to lifestyle. It's hard not to, with news of the bad economy and joblessness hitting us from every angle.
On a personal level, I've also been feeling really conflicted lately. We just put our house on the market, in hopes that we can sell it and buy something a bit bigger for our family of five. On one hand, I feel frustrated that Jason and I are feeling pinched, even though we work hard, we're good at what we do, we're relatively responsible with our money, and we live in an affordable part of the country. On the other hand, the fact that I feel even an ounce of self-pity makes me incredibly sheepish. We have so much, and our day-to-day wants and worries are so few. Five people jockeying for position in one bathroom hardly represents a tough life.
We are the "haves" and the "have nots"
In the midst of all these thoughts, NPR has been doing a really interesting series on what it means to "live in the middle." There are stories about families who are struggling to make basic ends meet in the middle, stories about a family who made a conscious choice to reduce their income and simplify their lifestyle, and stories about various categories of the population—the retired, the single moms, and recent college grads.
All of this was sparked by the fact that the Census Bureau just released the new median household income: $50,000. But what does that really mean?
I'm no economist, but I know you have to dig far beyond a median number to understand its impact in the lives of real people. For instance, yesterday's NPR piece Americans Underestimate US Wealth Inequality points out something I already knew (but try not to think about): "In the U.S., the top 20 percent of people have 85 percent of the wealth" and "the bottom 40 percent of people in the United States basically have zero wealth." Layer onto that how widely varied our understanding of wealth inequality is, and how vastly different we'd like it to be, and you have realities that clash sharply with perceptions and hopes.
Another story, What Does Middle Class Really Mean?, gets to the heart of the matter, as far as I'm concerned. It's not a matter of how much you make, it's a matter of how it allows you to live. Here's how the story's author, Kimberly Jones, puts it:
What does middle class really mean? I've decided to create my own definition for the term. To me, middle class has much less to do with the actual amount of income one earns, and more to do with the degree to which one can manage the various aspects of life that involve money.  In other words, it's not about how much you've got, but what you can do with what you've got.
Let's admit we all make lifestyle choices
Which leads directly to my next thought—the one that I go back to again and again: We all make choices. Sure, there are some circumstances that just happen to us—we lost our job, we're dealing with health issues, we're stuck living in a certain city for any number of reasons—but beyond those circumstances, within those circumstances, are choices.
And let's not fool ourselves—the choices we make represent our priorities. Do we skip nice vacations so we can send our kids to private schools? Do we get by with one car (or no car) so we can spend more on our home? Do we pack lunches and coffee from home rather than go out, so we can give money to our church or other causes we believe in? Do we put a bit into savings each month, or do we choose to live in debt in our efforts to "maintain the appearance of wealth," as Kimberly Jones puts it?
Personally, I need to stop comparing myself to others. I need to stop wondering "how on earth can they afford that?" and stop feeling sorry for myself that the sofa I relax on at the end of each long day is threadbare. Instead, I need to be thankful for my work, do my best at it, and make good choices that reflect my priorities. Then I need to own those choices and live my life.

Similar Posts: