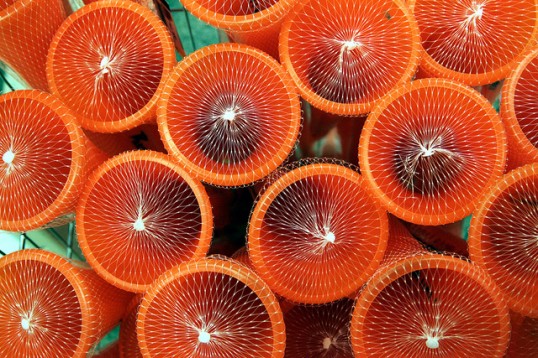 I often feel that our culture wants to draw lines in our politics, faith, and ideologies when most of us are stuck in the grey areas.  How do you think we can advocate opening up dialogue and more conversation in these tough areas of faith, politics, and more?
The question came from Kristen Sloan, who today published an interview with me at her blog, Break the Mold: A different way of faith and life.
It's a good question, isn't it? At least I tend to think the best questions are the hardest ones to answer, and this definitely fits into that category. It also happens to be one of the issues I care most about (I've written about it before—Kristen specifically references my post God in the subway?). If it's an issue you care about, too, I'd love it if we could all put our heads together around it. Take a few minutes and think about how you would answer the question, before you read my response.
OK, here's what I said:
Ah, that's a tough one. I think blogging in such a way that invites dialogue and different viewpoints is one of the most powerful things we can do. Where else do we have access to as many different people and ideas as we do via blogs and social media?
In my "real life," I try to do everything I can to broaden my community. I go to a church that attracts a broad range of people and opinions, which makes it a difficult community in many ways. But when we come together and have dialogue and help each other, I think we're closer to the kingdom of God than we are when we're isolated with a bunch of people who think and look just like us.
Finally, in our social media and real-life communities, we need to be as authentic and real as we can. It gives everyone else permission to do the same.
Here's one thing I would have added, if I hadn't been worried that my responses to Kristen's questions were getting too long: My efforts to broaden community in my real life go far beyond my church community choice. Because let's face it—even the most diverse church is only going to be able to open up the conversation to a point. Jason and I are grateful to live in (and build friendships in) a community that is surprisingly diverse in terms of religion, race and ethnicity.
- Do you think these hopes for on line and real-life community are realistic, or just wishful thinking?
- Have you experienced positive interactions in the "grey areas", whether around faith, politics, sexuality or some other polarized area of society?
- Can you think of other specific ways we can "advocate opening up dialogue," or any pitfalls we should avoid?

(By the way, be sure to check out Kristen's blog Break the Mold, which she describes like this: "Our culture teaches us the norms of consumerism, individualism, and to do what is necessary to get ahead. Break the Mold believes in the values of faith, simplicity, and community to employ a radical change in your lifestyle.")
Similar Posts: