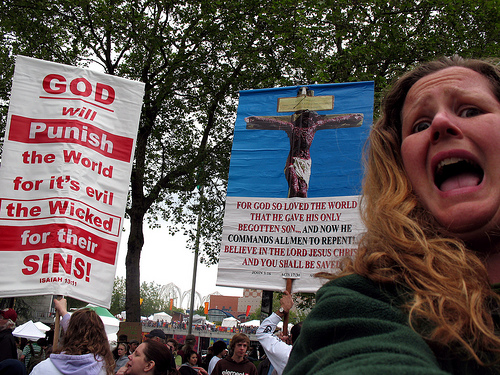 "Sharing the Gospel."
I'm a Christian, and that phrase makes me squirm and cringe. It's easy to imagine how so many others feel about it.
Last night at our small group gathering, we were discussing what it really means to "share the gospel," a topic sparked by chapter 14 in Brian McLaren's book A New Kind of Christianity. In my opinion, this chapter, "What Is the Gospel?" is the most important one in the book so far. It gets to the heart of all of the issues that get me worked up and stressed out about the current state of Christianity and politics: Sameness and difference. Polarization. Reconciliation.
I could write an entire (probably quite entertaining) post about why the phrase "sharing the gospel" rubs me the wrong way, but McLaren's thoughts steered me away from the cultural idiosyncrasies straight into the theological meat of the matter: What is "the gospel" really about? And what are we supposed to do with it?
My problem, you see, was all rooted in my definition. I've always thought the gospel message was "Jesus died for your sins." If that's where you start, then this is what "sharing the gospel" looks like: Verbally telling people that Jesus died for their sins, and if they believe that they can go to a place called heaven when they die.
In other words, you tell people there's this one way to see things and one way to live, and if they jump on board and do it all just like you, they can be guaranteed an eternity of your annoying company in heaven. (OK, to be fair, I know there are exceptions and variations. Not everyone who seeks to "share the gospel" is heavy-handed and annoying.)
God's kingdom come on earth as it is in heaven
But McLaren's definition of "The Gospel" and what Jesus came to do rings so very true to me:
Jesus didn't come to start a new religion to replace first Judaism and then all other religions…. Instead, he came to announce a new kingdom, a new way of life, a new way of peace that carried good news to all people of every religion. A new kingdom is much bigger than a new religion, and in fact it has room for many religious traditions within it.
Later in the chapter, McLaren takes a look at what Paul is trying to do in Romans: "He is the guy simultaneously defending the right of the gentile Christians to be different and struggling to keep Jews and Gentiles working together as one community." I love how McLaren puts it: "Jesus's gospel of the kingdom must welcome Jews in their Jewishness and Gentiles in their goyishness, and Paul wants to show how that can be." That can be! It's really difficult, but not impossible!
To me, that thought is extended today to include conservatives in their right-wing-ness, and liberals in their left-ness, homosexuals in their gay-ness, pro-choicers and right-to-lifers…the list goes on and on. All sorts of different people, with differing viewpoints and practices, all under the shelter of a single gospel message.
It only works with love
I have to admit, it's a tough list for me to accept. Well, it's important and right in the areas I agree with, and difficult to embrace in the areas I can't agree with. Also, this is important—I refuse to be OK with it if whatever you need to embrace means you also embrace hatred toward others. All of the current chatter and debate about the building of a mosque near Ground Zero puts that sort of hatred into sharp relief, and I have no doubt it has nothing to do with what Jesus or Paul had in mind.
Ultimately, this "not judging" and "accepting others" works only where there is love, and a common vision of a kingdom of heaven that can exist on earth. That's why, when it's all said and done, I don't want to "share" the gospel; I want to live it. I'm pretty sure it's the only way to get there.

Similar Posts: