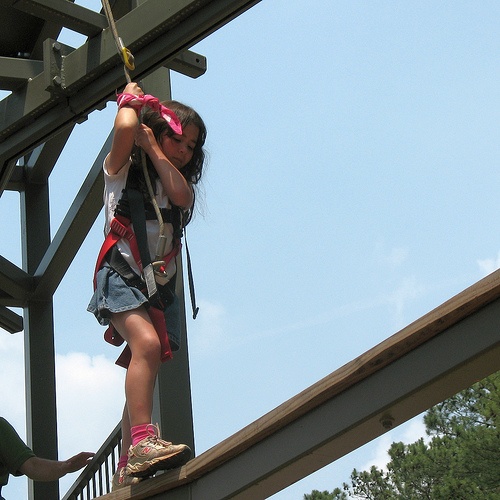 This morning, as I was reading Jason Boyett's interesting post Parenting with Doubt, I had one of those realizations that you later find out 80 percent of everyone else has already had, but it was still a light bulb moment for you.
My realization was this: "Faith" and "doubt" are not opposites. We sure tend to talk and think about them like they are, though. Most of us know faith and doubt are not mutually exclusive—we acknowledge that at any given time we feel a bit of both. But we do see them at opposite ends of a spectrum, and we see ourselves traveling along somewhere in the middle. We imagine that each step we take towards faith takes us a step further away from doubt, and every time we encounter something that makes us doubt, we are moving away from faith.
Not only do I think that common framework is off, I think it causes us a lot more grief than we realize.
We need a new model for teaching our kids
Today's post by Jason Boyett addresses the question "How are we supposed to teach our kids about faith if we're dealing with doubts?" It's a great question, and I think it rightly touches on the fact that this generation of young parents is much more comfortable doubting and re-thinking aspects of our faith than our parents were. Our parents, for the most part, chose to accept the faith they were raised with, burying any doubts, or they chose to reject it, to put an end to the whole church-going charade.
My friends seem to think this faith and doubt struggle is healthy for us, but then we second-guess the best way to talk to our kids. Here's how Jason Boyett presents his dilemma:
I'm quick to give an answer when my kids ask me a question about dinosaurs or insects or Harry Potter. I feel confident in my knowledge, and when my knowledge is lacking on a subject, I can look it up. But when they ask me about God, I'm less confident. Do I tell them what most Christians believe? Do I tell them what I used to believe? Do I tell them what I'm learning to believe now? What do I tell them when my confidence is shaky? How do I help ground their faith?
As I ponder all this, I have to admit I'm a big fan of parental responses like "That's really complicated, isn't it?" and "I'm not really sure—I'm trying to figure that out, too." Do answers like that do anything to "ground their faith?" I don't know. I don't think my doubts will jump off of me onto my kids, taking hold like a bad virus; I just hope some of my comfort with doubt will rub off on them.
.

Why faith and doubt go together
Ultimately, I think our kids can avoid a lot of confusion, stress and frustration if they see how doubt is an integral part of faith—not only do go hand-in-hand, they MUST go hand-in-hand. When we are taught about God in absolutes, faith is no longer required. We can rely on our intellect, logic, and a blind acceptance of what's being said by those who are older and wiser, right? That doesn't seem like *faith* at all. That seems like studying for a standardized test.
Jesus, after all, didn't give tests. Not only was it not his style, the information he was trying to teach can't be easily wrangled into a test.  Jesus told stories to teach people and to help them see (or at least to look in the right direction). I love that, because stories are not black and white the way math equations or scientific facts tend to be. Instead, stories shine a light, get our minds working, and offer more insight as we grow and become ready.
I think I'm going to borrow some teaching methods from Jesus. The stories in the Old Testament, the parables of Jesus, and the stories in my own life all take faith and doubt together, and point to something quite amazing.

Similar Posts: