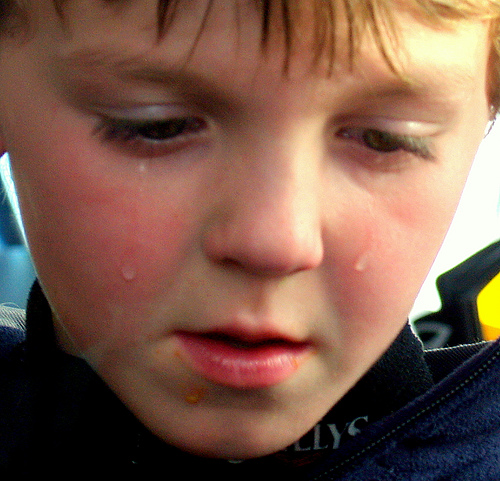 "Maybe good criers were survivors."
That caught my attention this morning. The news stream was otherwise filled with the war in Afghanistan, football season, and discussion about whether a woman can effectively regulate the banking industry. So wait—survival isn't all about being the toughest, strongest, and most formidable?
It was an NPR Morning Edition story about the evolutionary benefits of crying, and it opened by pointing out that humans are the "only species that shed tears for emotional reasons." Scientists are concluding there must be some benefit—beyond the obvious idea that babies need to cry in order to communicate their needs. We know why babies need to cry, but why don't we grow out of it entirely, as adults?
Less crying doesn't necessarily mean more happiness
I started thinking about how I've gradually watched the number of tears my daughters cry decrease, as they get older. But it's not that the intensity of their emotions has decreased. It's that they've become better at internally managing those emotions, and at using words to express the emotions that need to get out.
But the tears still flow—and often not when you'd expect. My youngest daughter has said to me, more than once, "Sometimes I just need to cry for all of the little things I haven't cried about yet." And she always seems relieved after she's done it.
As an adult, I certainly cry less than I did as a child, but there are certainly still those moments. Often, my ability to manage my emotions has been compromised in some way—a lack of sleep, for instance. But more often, it's just one of those times when words don't do justice to the feelings.
Beyond communicating to evoking
In the end, it can feel good to cry. I've always assumed it has something to do with our physical need to let out bottled up stress and sadness, but this NPR story has me thinking more about tears as a communication tool.
One theory is that crying may have evolved as a kind of signal—a signal that was valuable because it could only be picked up by those closest to us who could actually see our tears.
"You can imagine there'd be a selection pressure to develop a signaling system that wouldn't let predators in on the fact that you're vulnerable." says Randy Cornelius, a psychologist at Vassar College.
As the story goes on to point out, one of the most amazing things about crying is that it goes beyond simply communicating how I'm feeling—it actually has the power to evoke strong emotions in the person who sees me cry.
Are we fully tapping our empathic inheritance?
That's what empathy is all about, right? And compassion. Being able to put ourselves in others' shoes—another distinctly human ability. Researcher Jesse Bering suspects that empathy helped our early ancestors thrive, because they were able to build stronger communities, which meant better protection and support.
It sounds great, doesn't it? But is it the reality in our own communities, our own lives? Are we crying and caring and responding together? Or are we mostly being "strong," communicating how capable we are, and apologizing when small bits of vulnerable emotion escape?
We seem to all be biologically wired for tears and empathy, but I worry that the same societal pressures that urge us to suppress our tears are also repressing our compassionate responses.
Our world seems much more focused on "survival of the fittest" than I'd like, but maybe the real problem is that we have a false sense of what the "fittest" looks like. Maybe it's not all about muscle and toughness, willpower and might. Maybe it also has something to do with being able to express and share our most vulnerable emotions.

Similar Posts: