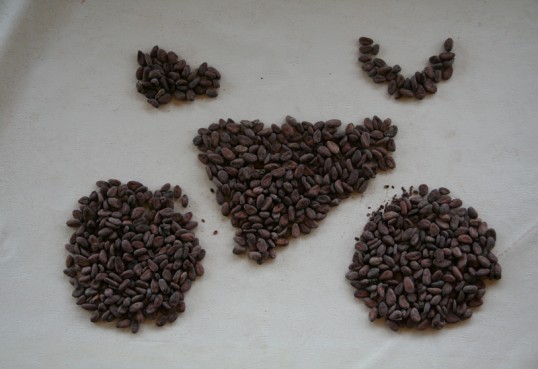 Cacao beans form a symbol of Dan's dream on the move.
Four weeks ago yesterday, I was at the Exploratorium in San Francisco with my family. It was the first day of our two-week vacation. The weather was cool and gorgeous as we trekked to the museum, stopping to picnic near the Palace of the Fine Arts.  The Exploratorium was bustling with wonder and discovery, young and old minds alike taking it all in.
And then my phone rang. It was my friend Laurence, calling to tell Jason and I that our friend, Dan, had died.
Dan had been sitting at our dining room table just five days before, reviewing our recent DIMBY (Dine In My Backyard) event and drawing up plans for the next one. We had also seen him at a dessert potluck just two nights before he died. The news was impossible to comprehend, and was made even more difficult because we were so far from home—we couldn't witness and participate in the collective shock and grief. A small part of my mind kept whispering: Maybe the grief didn't exist, maybe the death didn't happen.
But it did, and I have spent the past month trying to process it all. I have both avoided writing anything about it and known that I have to write about it. This is what I do. Writing must be a part of my grieving.
Knowing and not knowing our friends
In many ways, Jason and I didn't know Dan all that well. We met him a year or so ago through Laurence, running into him here and there, always diving into lively food-focused conversations. We raved about his bean-to-bar chocolate, confident that his company, Flatlander, was going places in a big way. We knew him simply as Dan the Chocolate Man—a brilliant guy who was brave enough to follow his dreams and make the world better along the way.
But on another level we felt like we knew Dan deeply, because we shared his excitement for food and people, and for bringing them together in every possible configuration. It felt like we could see inside his mind and his heart, and we immediately recognized what we saw, the way you recognize an old friend.
Just this spring, our friendship shifted from talking to doing. Jason and Dan began putting their heads together, along with Laurence and a few others, around their common food geek status and love for community. The ideas were flowing, and DIMBY was the first expression of those dreams. I lingered on the sidelines until my own enthusiasm spilled over—even more for the idea of strangers sharing a table than for the wonderful food. I dove in, collaborating with Dan who made the ice cream to serve with my peach-thyme upside-down cake at the second DIMBY gathering.
Grieving a friend and death itself
It's really hard to imagine this community without Dan—without his bars of chocolate tempting us in all our favorite stores around town; without his bike zipping down our street daily (Dan was firmly anti-car); without his infectious ideas populating our inboxes.
I'm grieving all of that, and I'm also beginning to grasp that I'm grieving death itself—especially death that "makes no sense." Investigators suspect Dan's death was a suicide. There is no other explanation that makes more sense, but it's still  hard for me to accept. There was no note or letter, no known struggle with depression, no subtle or obvious cries for help. Dan's life was packed with friends and a loving family, surrounded by community, and full of plans. In fact, the night Dan died he was at the food co-op buying sugar for his next batch of chocolate.
Finding meaning in the meaningless
I've had to abandon my quest to "make sense of it." That's not going to happen. I'm grateful, though, that there is a way for us to make meaning out of what's meaningless. Dan's family and friends have established the Flatlander Fund to raise money for a community kitchen, something Dan had talked excitedly to Jason and I and others about. The certified kitchen will be a place for people to gather around food—classes will be taught, demonstrations given, specialty food businesses supported, and, most importantly, meals shared.
That's what we did at Dan's memorial service. We gathered together as a community, out at Prairie Fruits Farm, and shared a meal that we had made with our hands. This weekend, Jason and I will help cook another meal—one that will gather people together around a table and raise money for the Flatlander Fund.
I love what Laurence said at the memorial service and want to end the post with it, trying to believe in my heart that all endings are also beginnings.
I think Dan grasped intuitively the magical or miraculous power of food. Remember that Theobroma, the genus to which cacao belongs, means 'food of the gods.' Although Dan set the highest possible standard for the chocolate he made, he was not into food for food's sake. The power of food lies not in whatever private pleasure it gives but in the communal bonds it creates. When we gather together and share the food we have made, we become communicants. That's why he loved potlucks like this. In gathering like this, in feeding each other, our community is sustained and created anew. It rises, like a phoenix, from the ashes of consuming its own substance.
Similar Posts: