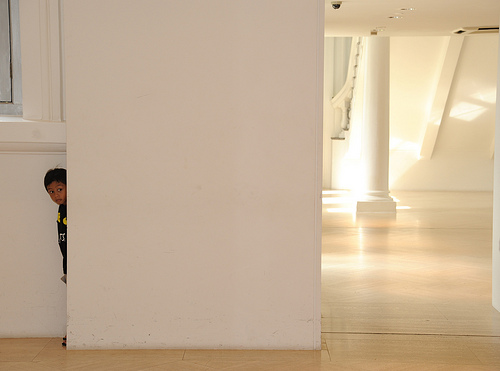 Last night Jason and I went to see the movie City Island. It's the sort of family drama/comedy that you'll love if you are a fan of films like Little Miss Sunshine and Juno. (By the way, there are no spoilers here!)
As the plot summary suggests, City Island's central theme is secrets, along with the lies used to cover them up:
The Rizzos, a family who doesn't share their habits, aspirations, and careers with one another, find their delicate web of lies disturbed by the arrival of a young ex-con….
The ex-con, Tony, uncovers and stumbles upon a few secrets hidden by the four family members, but for the most part, he serves as a confessor. He is open, non-judgmental, and present, so the family members—especially the patriarch—seem eager to release their burdens. Secrets are eating their family alive, but no one can imagine baring their deepest longings and fears to one another. It seems so simple, right on the tips of their tongues, and yet so impossible.
God knows all: A relief or a discomfort?
When I was little, one of my biggest, mind-warping conundrums about God had to do with secrets. I wanted desperately to have secrets from God, even though I knew he could see everything I was doing and even thinking! Yet I still behaved as if maybe I could slip one by him. It's like the mentality toddlers have when they play hide-and-seek—as long as I can't see you, you can't see me.
But Psalm 139 suggests otherwise:
1 O LORD, you have searched me
and you know me.
2 You know when I sit and when I rise;
you perceive my thoughts from afar.
3 You discern my going out and my lying down;
you are familiar with all my ways.
4 Before a word is on my tongue
you know it completely, O LORD.
5 You hem me in—behind and before;
you have laid your hand upon me.
6 Such knowledge is too wonderful for me,
too lofty for me to attain.
7 Where can I go from your Spirit?
Where can I flee from your presence?
God perceives my thoughts from afar? I can never hide away from him? As a child, the concept didn't exactly give me comfort. There was too much I didn't want him to know!
Releasing that pressure valve
After years of keeping my own secrets, big and small, from a variety of people, crisis eventually pushed them to the surface. Counseling, anti-depressants, divorce—the jig was up. It was intense and far from pretty, but it was also such a relief! And it's never over. Once you start living in that truth, you regularly face moments when you have to lay bare those old secrets to new people. It's a difficult but powerful reminder, preventing you from ever wanting to keep secrets again.
Not surprisingly, the plot in the movie City Island culminated in a moment of intense, not-pretty (but pretty darn funny) crisis. The pressure builds the entire movie, keeping the audience cringing and silently rooting for truth, for release. And then it happens all at once, in a hilarious, absurd scene, on a street outside their house. You want to laugh and cry.
The agony of bearing witness
And for most of this scene, Tony is observing, while awkwardly handcuffed to a telephone pole. Maybe I shouldn't go down this road, but I couldn't help but see him, the ex-con,  as a Jesus figure. Toward the start of the movie he arrives on the scene, rescued from prison (where the jig is always up), only to be planted in the middle of this grotesque family portrait of the human condition—people who love and need each other but can't reveal their hearts to one another.
Tony, like the audience, can see it all—the truth as well as the secrets, and the ways the lies hurt others while simultaneously consuming the hearts of the people telling them. It pains him beyond belief. This family, he sees, has something beautiful. They have love and each other, but they've built all these walls. It's a voluntary prison even more maddening than the one Tony had been involuntarily locked in.
But the way out is blessedly within reach.
Can you imagine what Jesus thinks as he looks at us—our families, our communities, our walled off world—today? Will it take a crisis for us to find relief?

Similar Posts: