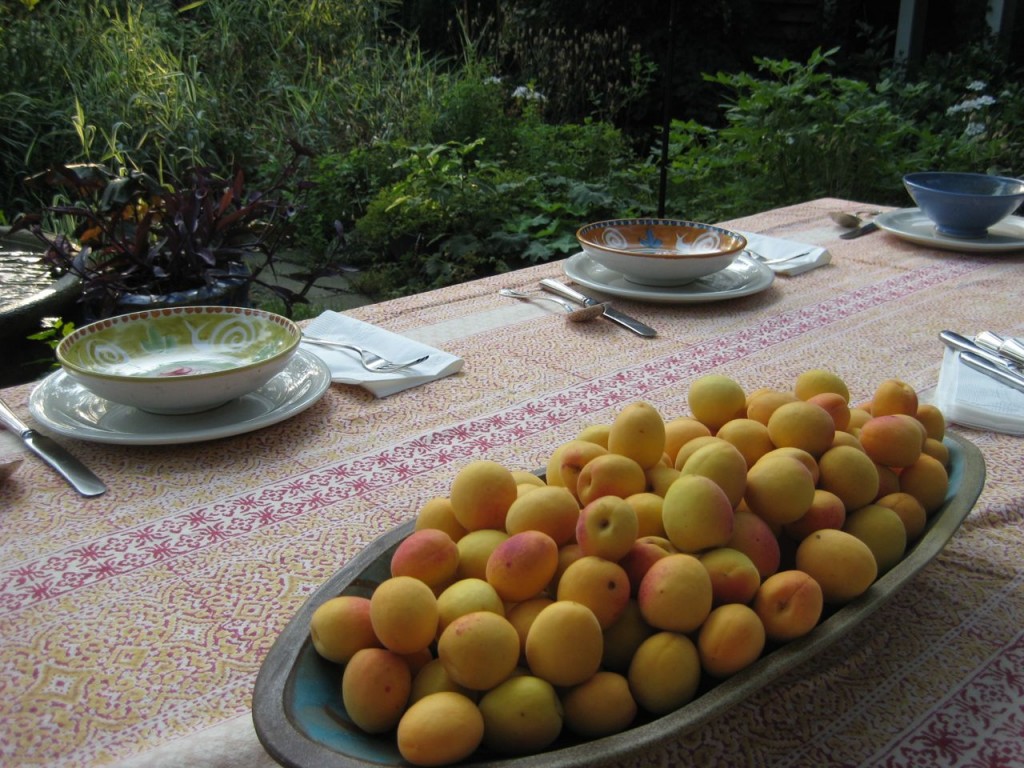 I'm not a food blogger, but as I was on my way to Saturday's dinner, I really thought I'd soon be writing a post all about food.
Jason and a few of his fellow amateur chef friends had conceived of a plan: A seasonally fresh dinner, held every few weeks, featuring only ingredients grown in home gardens or purchased at our local farmers market. There are so many foodie angles I could take with a post about this:
- The creativity evident in Jason's chilled minted sweet pea soup, topped with buttermilk-soaked radish slices—a recipe he created and tested in our kitchen (after I helped him shell peas for two hours!).
- The ingenuity shown by Laurence, who, when he realized he forgot to buy local butter at the farmers market, decided to churn his own from local cream he had on hand. (Laurence also cooked the locally-raised pork loin using a little-known French method known as sous vide, and served it with a sauce made from apricots from a friend's tree.)
- The adventurousness of Dan, who made truffles for dessert using locally-made fresh chevre dipped in the dark Madagascar chocolate he makes starting from cocoa beans. (Dan has recently started his own chocolate business, Flatlander Chocolate.)
OK, so maybe this post is sort of about the food, and about cooking and eating in season, and supporting local agriculture. How could it not be? It was all ridiculously delicious.
But as we left Laurence's house that evening, six hours after the dinner began, I couldn't stop thinking about my experience with the people. (cont.)

The 20 people who came to the dinner were treated not just to the delicious bounty of a lovingly-grown and -prepared meal, but to the experience of sitting around a table together with people who are mostly strangers—at least we were strangers when the first course was served. Jason and I knew only eight of the people at the dinner; several people there only knew the person they came with and perhaps one or two others.
In some ways, this experience seems entirely acceptable and normal. It's not as if people were walking into Laurence's garden off the street. Each guest had some connection, strong or vague, to one of the guys who organized and prepared the meal. And what we were doing is not odd—we were just sitting down and eating together, which is something people do every day.
But in other ways, it is utterly shocking and intimate, and all-too-rare. Think about the way we tend to seek out the most private table at a restaurant or cafe. Think about how we walk down city sidewalks or stand on public transportation, just inches apart from others, but don't really see or acknowledge one another. Think about how much we hide behind our earbuds, listening to our private music and consumed with our text messaging. Think about how at parties, faced with people we don't know, we gravitate toward those we do know, forming tight clusters that protect us from awkwardness and risk.
There we sat at one very long table, facing one another. People in their 20s and in their 60s. Pastors and medical students, farmers and professional violists, mediation specialists and chocolate makers. A friend visiting the Midwest from San Francisco, and a dad holding a baby. Passing the roasted potatoes and finding out about each other. Refilling one another's wine and water glasses and laughing together. Asking questions about the food we were eating (Stan, who raised the meat we were eating, was sitting right across the table) and sharing in our common loves.  Learning things we didn't know before from people we didn't know before.
I'm finding the experience hard to articulate. All I can say is that I stumbled upon something I want more of in my life. Not just more chevre-dark chocolate truffles (although yes, please!), but more interactions with strangers—interactions that are honest, real, sustained, and rooted in the things that make this world a much better place than it often seems to be.

Similar Posts: