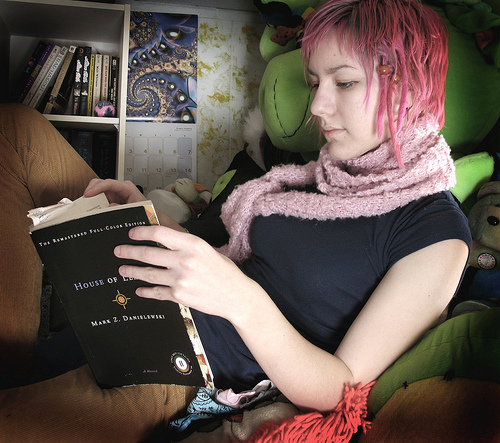 When I first stepped into my church—the one I've been going to for the last five years—I noticed the teenagers right away. I noticed them mostly because they were all sitting up in the first few rows, and they seemed really into being at church. My church isn't stuffy and traditional, but it's not exactly a hip, media- and music-driven church, where young people are specifically being catered to, either,  so I was impressed by the teens' enthusiasm.
The other thing I noticed about the teenagers, over time, was how comfortable they seemed to be in their skin. They each seemed to be exploring and expressing who they were in multi-faceted ways, blending the person they were at school and on the soccer field with the person they were at church and off doing Habitat for Humanity work. There wasn't a certain "look" or talent that was most admired by the group, from what I could tell—they were who they were, and that sense of self was the very thing that made them cool.
My own girls were just five- and seven-years-old when we started going to our church, but I remembered thinking "That's how I want my kids to feel about church when they're teenagers." It was a vague wish, seeing as how I hadn't directly asked those teens what was going on in their heads and hearts, but it was still a wish.
Where the rubber hits the road
Now my oldest daughter is in middle school, and I have a stepdaughter who is, too. The fuzzy youth group concept is becoming more concrete all the time. I ponder it a lot, and follow up my ponderings with many questions for them. "What do you like doing most at youth group?" I ask. "What matters to you? What makes it feel worth your time? Does youth group make you feel more connected to your church community, or does it feel like a separate thing? Do you feel like there's anything happening in youth group that makes sense in your world outside of church?"
Once I begin asking questions, I have a hard time stopping. I was a newspaper reporter for a few years after college—asking questions is ingrained in me. After grilling my girls, I started polling people in my small group, most of whom are in their late 20s and early 30s. "Did you go to youth group? What part of it seems most meaningful to you now, in hindsight?"
A vision of what matters when it comes to kids and church
So I've had plenty of thoughts and asked lots of questions, but now the real question is crystallized in my own kids, as they travel through adolescence: What do I want for them, when it comes to their understanding of church and God? What will do the most good? What will do the least harm? (I know, sort of a depressing question, but probably an important one.)
The fact of the matter is, young people are leaving the church in droves, as soon as they leave home (and often while they're still in high school). Something is missing.
There are a lot of theories out there, and plenty of possibilities. I could write an entire blog post series on the topic (as many people already have). But as a parent, what do I want most for my three daughters? How do I want them to think about and experience church? There are so many ways to do youth group, and so many things to teach our kids about the Bible and theology, about the nature of God and his creation. It's not like we have to choose just one thing to focus on, but if we did, what would it be?
Last night, as Jason and I were cleaning up the kitchen after hosting small group, it came to me. Well, a thought arrived in my head, sort of like a vision, and I want to see what you all think about it: I want my daughters to think about church as the place where they can most fully be the people God created them to be—where they feel absolutely loved, accepted, respected for who they are, not who they think they're supposed to be. Where their talents and gifts can flourish, and where their doubts and fears can be voiced.
Which brings to the surface the next question: What does that look like, in a youth program? What activities and relationships might best support that outcome?

Similar Posts: