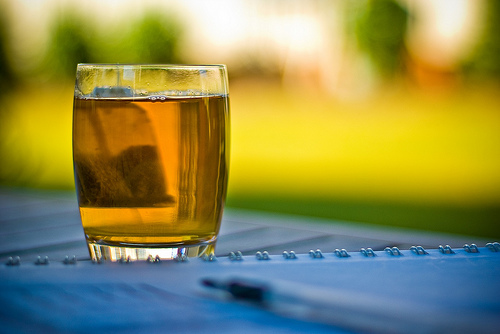 We all know that small investments can yield big returns (at least we knew that in a different time and economy). We're also familiar with the common adage about volunteering: You gain so much more than you give.
Why, then, am I so concrete and literal when it comes to measuring time in my day-to-day life?
When I'm going through my days, an hour is an hour—60 minutes. It's either spent poorly or well. An hour spent doing one thing is an hour taken away from something else. If I put my work away and take a real lunch break, I have "lost" an hour of my work day; if I give up an hour of reading and relaxing time in the evening, I can "gain back" that lost hour of work.
Part of this mindset could be the product of working as a freelancer in a deadline-driven, time-billable industry. Projects usually start with time estimates, which involves trying to nail down the unknown: How much time will this work require? Will the ideas come quickly and willingly, or kicking and screaming? Will I be focused and alert, or distracted and sleepy?
As I work, each hour is recorded and accounted for—a running total is calculated as I go, and held up to the original estimate. It's hard to not think of time as a commodity, and hard to keep that mindset from spilling over the rim of the workday onto other areas of my life.
Learning to let go of the concrete side of time
Lately, though, I've been convinced, again and again, that I need to stop thinking about my time in this way. It started when I wrote this post about the importance of giving my mind time and space to wander. In the two weeks since then, I've been deliberate about taking breaks and seeing what happens. It's been an experiment, of sorts: If I delay my work day by a half hour to take a walk, do I actually lose 30 minutes of work time, or am I that much more focused and efficient when I sit down, because of the walk?
In addition to taking walks, I've putzed in my garden, met people for lunch, taken power naps, and sat in the sunshine with a book. Time-wise, each investment has been anywhere from 15 minutes to an hour—and it's all time that I honestly don't think I've had to "make up" later. In other words, I have seen a return on my investment.
When I take the time to walk or weed in my garden, I feel more relaxed, which clears my head and helps me to focus. When I meet Jason or other friends for lunch, I feel energized and inspired by the conversation. Sometimes, by being with others, I'm able to let go of stress; other times, I get ideas for a blog post, or my mind is stimulated just listening to the ideas of others.
Rethinking the expression "waste of time"
The returns on these time investments are so varied, that I'm sure there are many I haven't even identified. But the point is clear: I need to stop being so literal and  greedy about time. Even when things completely out of my control come up—one of my daughters comes home sick from school, or an errand I thought would take 30 minutes takes twice as long—I need to stop thinking about that as "wasted time." All time is comprised of moments when I can be learning something, gaining writing material, caring for someone, and yes, even "building my character."
Thinking about it that way makes me wonder: Is anything really a waste of time?

Similar Posts: