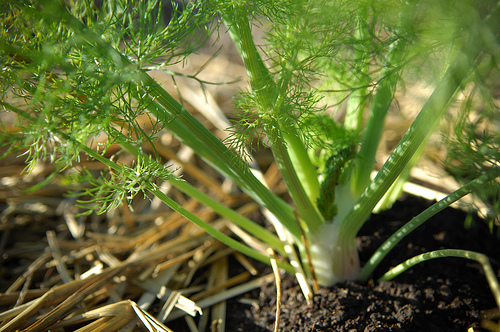 It's May, a month I associate with gardening—with growth and newness, and the satisfaction of hard work, the kind that's sighed out in aching joints and tired bones when you finally get into bed at the end of the day, dreaming about the small moments of progress and beauty you achieved.
As I worked in my garden yesterday, finally attacking the weeds that have been taunting me for weeks, I couldn't stop the flood of metaphors. I thought about the ferns my friend Lorna let me dig up in her yard, and how I enthusiastically brought them home before I had even begun to do the groundwork necessary to plant them. How often, in my excitement over my vision, do I get too far ahead of myself and forget to take the time to prepare the soil?
I also thought about my great appreciation for mulch. Don't you love its ability to transform a sloppy-looking tangle of plants and weeds into something defined and cared for? But first you have to put time and effort into weeding out all that is unwanted, digging to uproot the stubborn weeds, and getting dirt under your nails as you unravel the smaller, more delicate ones.  After all, you want the mulch to be blanketing and holding in all that's good, not hiding all that's bad.
God loves gardens
I blame the Bible for this endless flood of gardening metaphors. Sometimes I think that's the main reason God decided to use the image of a garden to embody the beautiful start of his creation: He knew it would provide endless opportunities for metaphor. They could last him an eternity and never grow outdated. Jesus could even come up with a whole slew of them to form parables around.
Through garden and farming metaphors, God is able to give us a clearer sense of his care for us, as well as our responsibility in the matter, and the discipline and work required of us. There is cultivating, pruning, weeding and watering, as well as small seeds that can become strong trees, and vines that produce abundant fruit. When all goes well, our lives can be compared to a well-watered garden:
The Lord will guide you always; He will satisfy your needs in a sun-scorched land and will strengthen your frame. You will be like a well-watered garden, like a spring whose waters never fail. ~ Isaiah 58:11
Cultivating a marriage
I know what it feels like to live as a parched garden. I've been there—on my own, and also in my first marriage.
I also know what a well-watered marriage feels like, when you don't have to conserve resources for periods of drought. Later this month Jason and I will celebrate our three-year anniversary. Our marriage is still new, but the roots have begun to establish themselves. We've moved beyond the satisfaction that comes in the form of annuals flowers—flashy bits of instant color you can plant in an afternoon, even though you know they won't survive the winter.
Now our marriage is like watching a perennial garden come up in the spring, three years after it was planted. We see that all of the weeding and pruning, the digging and sweating have paid off. Sure, there are corners that could use more work—a bit more beauty and love—but each year the plants surprise us by being more full and healthy than we expect.
But more than anything, Jason and I see springtime when we look at our marriage, a second marriage for each of us. That's why I got married in a spring green dress, and why we chose to have 2 Corinthians 5:17 printed on our invitations:
Therefore, if anyone is in Christ, he is a new creation; the old has gone, the new has come!
Similar Posts: