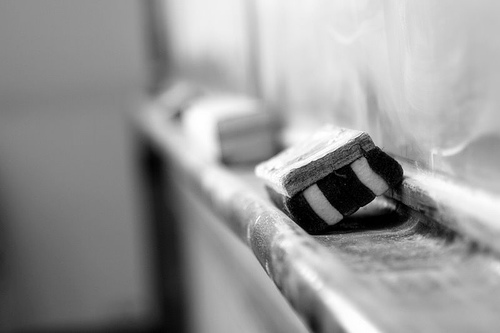 Lately, it seems I'm being convicted of my hypocrisy at every turn.
There are many different brands of hypocrisy. Somehow I've been able to mostly convince myself that the brand I struggle with is a lesser kind. It's easy to look at the hypocrisy being addressed in the Bible and think "Whew! That's not me! I'm not like the Pharisees!" It's easy to subconsciously define "hypocrite" as a certain type of person (a wealthy, powerful, compassion-less know-it-all), rather than as a common state of the heart and mind, with many permeations.
I've got my own brand of hypocrisy
But these are the sorts of things I've been realizing about myself more and more, lately:
I get fed up with people who identify as Christians but don't seem to be living lives of love and compassion for all (by "all," I mean people who exist on the fringes of society for one reason or another). But I am not directing love and compassion toward those very people that aggravate me.
I get all worked up about how closed-minded and opinionated the Tea Baggers are, but I am close-minded and opinionated, too—I just happen to hold opposing opinions.
I am very aware of how others are acting in divisive ways, particularly within the Christian faith, but I fail to recognize my own divisiveness. I can work with minor differences of opinion, but when it comes to radically different ways of seeing things, my attitude is a line-drawing one: If I can't convince them to see things more like me, then I just separate myself from them—cut them out of the community of faith I claim.
A new paradigm that's less about opinions and lines
Thankfully, it hasn't been people who are getting in my face showing me how I need to practice what I preach; it's been words. That's always a bit easier to take—I don't get that automatic urge to be defensive. Our small group just started reading Brian McLaren's A New Kind of Christianity. I've only read the first few chapters so far, so I'm not going to make any overarching claims about the book, but I was really struck by some of what McLaren is laying out in the third chapter, especially this:
We understand that many good Christians will not want to participate in our quest, and we welcome their charitable critique. A search for a new kind of Christian faith can't be reduced to another list of propositions about which debates rage and over which debaters indulge in hostile polemics. Nor can its proponents be content to forge arguments urging converts to defect from the heretical "them" and affiliate with the righteous "us."
I'm just letting that sink in, and start a paradigm shift in my head and heart. The fact of the matter is, I'm really sad about the state of the Christian faith. I'm really sad about the way Christians are treating people outside of our faith, and about the way people are communicating with one another within the faith. And I think sadness is the right way to feel about it, because sadness makes room for compassion; anger—the emotion I had been feeling a lot of—does not.
This image (McLaren, chapter 3) is the one I'm going to carry with me now, along with prayers that it will transform me from the inside out:
We need a new way of being, a new inner ecology, a new spirituality that does more than make us opinionated or fastidious, but that renders our souls an orchard of trees bearing good fruit, rooted in who we are before God and who we are becoming in God.
Similar Posts: