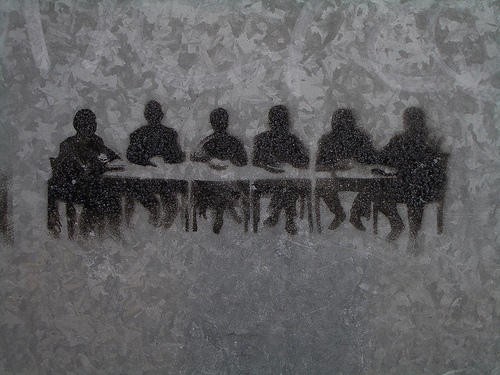 I haven't exactly polled any parents, but I'm pretty sure one of the most common parenting struggles is this: When do we try to "make" our kids do something, and when do we let them make their own choices, even if we're pretty sure they're bad ones?
That question stems directly from these: How much of our wisdom, input and advice are kids willing to trust and embrace? Do we really know what's best for them? And even if we do, does it matter if they don't willingly accept our plans for them?
Different personalities, different approaches
I have always been a very logic-driven person, which I suspect made parenting me easier in some respects and more frustrating in others. Here is the easy part of the equation: If my parents could explain to me (ie: build a solid case) for why I should do something, why I should do it a certain way, etc., I was more than happy to buy into it. I wasn't interested in being rebellious or contrary just for contrary's sake.
But the other side of that attitude meant I was never up for a "just trust us" approach to parenting, and I certainly was going to rebel wholeheartedly against a "because we said so" power play.
My 12-year-old, Q, is a lot like me in that respect (oh, the joys of getting to parent a mini-you!). My 10-year-old, S, is more eager to please and to do the right thing, but she also has lots of feelings and emotions that tend to muck up the works, getting in the way of logic and other practicalities. It takes more time—more storytelling, more nurturing and more love—to get her on board. We try to approach each of our kids according to their needs, but we hope the end result looks consistent, no matter how we got there. It's an art form I'm sure I'll never perfect.
What do entire groups of kids need?
Things get really complicated when you're looking at the needs of a whole group of kids. I'm sure there are a few teachers and school board members out there who can attest to that. Maybe some conscientious politicians, too? Who should be making larger scale decisions for our kids, and how should those decisions be reached?
I'm mulling all of this over right now because we're in the process of rethinking our youth program at church (I posted a bit about it last week). At a youth advisory meeting yesterday, some parents asked that classic question: Do I make my kid go to youth group if he doesn't want to? And as we discussed what we think our kids need most from their church experience, and what kind of program will provide that, this question also came up: How much should we, as adults in the church, prescribe, and how much should we let the kids dictate?
While the answer might seem simple—if it's a program for them, they should get to design it—I'm realizing it's not that easy. First of all, there are so many different kids with different interests and needs. Can a bunch of kids really understand and take all of those needs into consideration? Secondly, I think kids tend to draw many of their ideas from their limited experience with reality. If you ask them what youth group should be like, they'll think of that one meeting that was fun, or that one time they visited their cousin's church, and the youth group there seemed to embody some ideal. Kids need to be pushed—we all do—if we're going to think more openly and broadly about new approaches and possibilities.
In the end, I think the right way to go about involving kids in youth group planning pretty much models the parenting approach Jason and I try to take at home. It falls somewhere in the middle of a "we know what's best for you" and "you know what's best for you" spectrum. We need to sit down and talk to kids, sharing the different sides of the issue and our range of concerns. We need to ask them lots of questions—not open-ended questions like "What do you think youth group should look like?" or "What do you want to do with yourself all summer?" but more specific questions: "What frustrates you most about youth group?" and "What kind of balance do you think need between focused time and free time, thinking time and fun time?"
After the kids have been truly heard and their thoughts have been considered, I think the adults should be the ones to make the decisions—and I think the kids will be more likely to embrace the plans that are put in place.

Similar Posts: