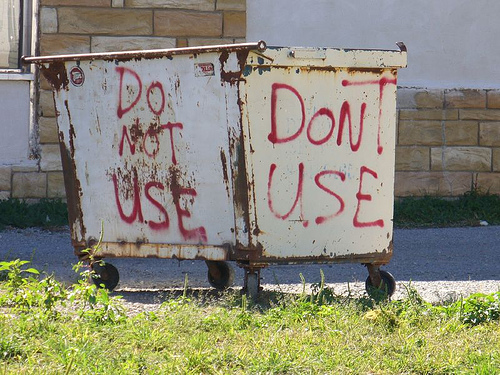 Photo by KB35
I've been daydreaming about having a dumpster in my driveway.
It's not the first time in my life I've had such a fantasy. I was desperate for a dumpster after my ex-husband and I got divorced. He had packed up a few boxes of essentials and moved into a lovely, spare apartment. In some ways I was lucky. I was staying in the house until we decided what to do with it. If I needed some random thing, there was a good chance it was there. For instance, I had drawers full of those odd kitchen supplies that you need every so often, like lemon zesters and rolling pins.
But in another way I felt immensely unlucky. An entire house full of stuff was pressing in on me, reminding me it would all need to be dealt with eventually. It was making me feel claustrophobic. The house was still full of things that completely belonged to him, and were just waiting to be retrieved. It was also a house full of sadness and memories. I envied my ex-husband for what (at least on the surface) looked like clean slate.
When we decided to sell the house about eight months later, my ex and I had to get together to deal with everything—trying to divide things fairly, deciding who would take what. After we dug into all of those old wounds and went our separate ways, each with half the libraries and music collections we once had, I was left with all the crap no one really wanted. This is when the dumpster longing became intense.
There's no dumpster for those emotions we'd like to toss
The dumpster fantasy isn't a very healthy one. I realize that. It's true, you can have a dumpster delivered, throw a bunch of stuff into it, and then watch it get carted away. It seems like a fine choice. But it isn't the responsible one.
This is where the post could turn into an environmental tirade, so I'm going to steer it away from the physical stuff, toward that emotional stuff we'd just like to toss in a dumpster and walk away from. That's very tied into what was going on with my ex husband and I, anyway.
When something is messy and hurtful, we'd love nothing more than to walk away from it for good. But I just don't think that kind of emotional dumpster service exists. I think we can pack things up in boxes and store them in the attic or a dank corner of the basement, but at some point those boxes still have to be dealt with—if not by you, then by someone else.
Remaining open to possibilities
On Monday I got an email from an old friend—a woman who was one of my few close friends in this town after I moved here in 2001. I hadn't heard from her in more than six years. As you can probably guess, our friendship ended in a bitter, angry way that I have felt hurt by ever since. In the six years that have passed since our face-to-face encounter, that former friend has moved away and my life has changed in significant, wonderful ways. Whenever I've thought of her, with a prick of pain, I brushed it off. I had decided that particular loose end wasn't important—it didn't really matter.

But now I realize I hadn't really walked away from all that. It was still in my possession, packed away in a box in the basement. Now, with this email I received, I can look at the contents again, and give them some air.
And the apology she sent? It was a real one—the kind that doesn't make excuses. It's the kind of apology that ultimately says "This is why we shouldn't go the emotional dumpster route. There might be something here of value and beauty, after all."

Similar Posts: