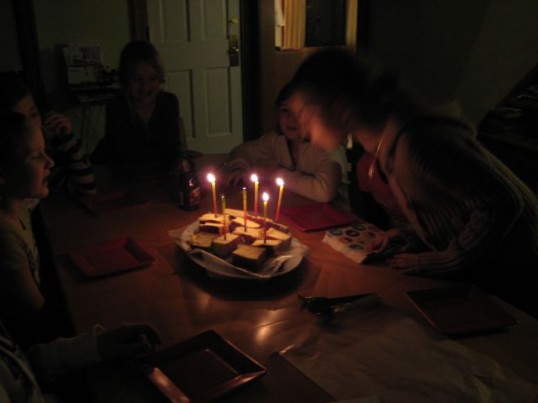 Do you ever find yourself clinging with relief to small bits of your own kids' childhoods, because they remind you of your childhood? I do. Regularly. I think it's just so shocking how different life is for kids today, that we long for any fragment resembling our own experience.

I might not be able to conjure any memories from watching my girls play a game on a Nintendo DS or on my iPhone (let's face it, Atari memories just don't correlate), but thankfully there are many moments I relate to in vivid, memory-rich ways. Like the joy of getting your bicycle out for the first time in spring (although my girls have to wear helmets, of course). Or the satisfaction of leaving the library with a stack of carefully chosen books you can hardly wait to open (true, they might have a couple of DVDs in their stack, too).
And then there's that classic sense of anticipation as you plan a birthday slumber party.
My oldest daughter, Q, who recently turned 12, invited five of her friends over to spend the night this past weekend. She's an organizer and a planner, so sitting down with me to discuss what the party would entail was half the fun of having a party. She had all of the ideas—I was simply the logistics consultant, more than anything. Oh, and the shopping list maker, because I'm the one with the funds.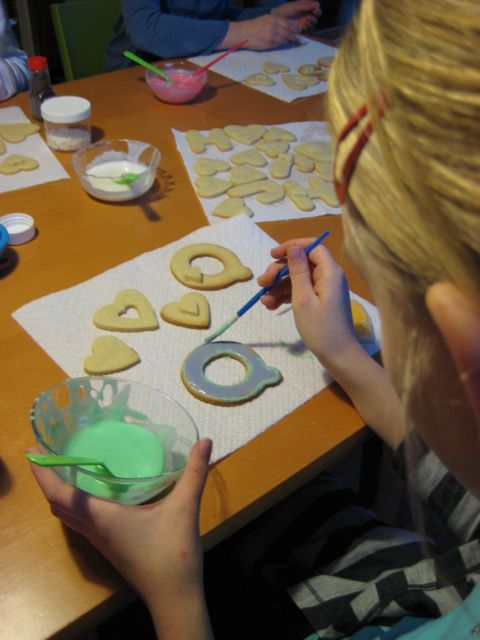 "Let's decorate Valentine cookies!" she said. "Everyone can take their cookies home, like a party favor." I smiled, and wrote it down. I've been decorating cookies made from that same recipe since I was younger than Q.
"I want to play games," she added. "Maybe in teams—word games, like Taboo."
"Maybe you could split into two teams and have a little competition playing several games," I suggested. "You could see how long it takes each team to put together a 100-piece puzzle, how many Taboo words each team can successfully guess…"
"And Wii bowling!" she added. I smiled again, as I was tugged from the 1980s back to 2010.
Tacos were Q's dinner request (a favorite in my childhood home), but there was also a special request for something I had never even heard of when I was 12: "You have to make your guacamole, Mama. I LOVE your guacamole."
And for her cake? Q wanted cheesecake.
"Can we have lots of different toppings?" she asked. I said that was a great idea, and told her that cheesecake was my own annual birthday cake request all through my tween and teen years. "Grandma makes amazing cheesecake," I said. "And so does Jason, so you're in luck."
When all was said and done, the party was a success. There were so many moments that could have been plucked straight from my own childhood sleepovers and plopped down into Q's fun night—lots of giggles and silly conversations, a jumble of pillows and sleeping bags, and requests for popcorn. Of course, there were a couple of girls who wanted some peace and quiet so they could sleep, and a few who persisted in making too much noise well after midnight. Some things never do change.
There were also some moments that took me by surprise, like the need to put in place a "no calling or texting anyone after 10 pm" rule—a perfect example of why I'm so glad my 12-year-old is still more than happy to set aside her phone and Nintendo DS for so many of the things I loved as a kid.
Similar Posts: