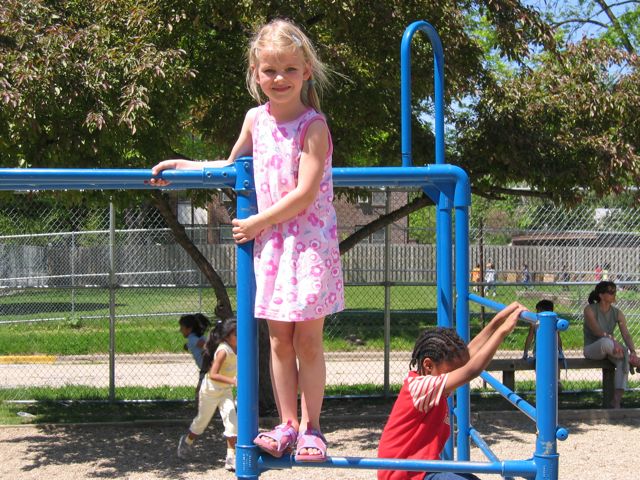 Photo by K. Tennant
See that adorable girl right there? That's my baby. If you're thinking "Wait a minute—that looks like a kindergartener, not a baby," I have even bigger news for you: She turns 12 this weekend.
Expressing shock that your kids are aging and growing up fast seems like such a cliche, but it's one of those mind-bending experiences you simply can't describe or explain. I guess that's why we keep trying.
But I'm not going to try, today. I'd rather write a post celebrating who Q is, what it's like to be her Mama, and how all her life she has been preparing me to parent an adolescent.
Q is a cheerful optimist, who takes life as it comes, adjusting to less-than-perfect circumstances with grace. In this particular way, she puts me to shame.
After she broke her arm while we were on vacation last summer, Jason and I often joked "Well, if one of our three girls had to break a bone, she would have been our choice." She was brave all the way to the hospital, managing her emotions, and somehow her pain, too.
Q spent the next two days in the cottage, her arm elevated on a pile of pillows and towels. Her sisters spent time playing cards or doing puzzles with her, before quietly heading down to the beach, where they would do two of Q's favorite things: Swim and work on their extended fairy village in the sand. Q certainly wasn't happy about her situation, and she expressed as much a couple of times, but she was determined to not let it ruin anyone's week. A couple of days after the accident she was wading in the water with her grandma, and serving as general contractor from her beach chair at the edge of Fairytopia.
The exquisite art of being an outgoing introvert
Q is confident and outgoing. She naturally attracts every type of friend, warmly welcoming them into her life. Although I dreaded her transition last fall to the enormous middle school (over 1,000 students), she threw herself into it without an apparent care in the world. Her closest friends from elementary school weren't in any of her classes or lunch, but within a couple of weeks, she had a great group of new friends.
But Q is also an introvert—she knows herself well, and knows when she needs to be alone. Once her day has contained enough interaction and stimulation, she often excuses herself and heads to bed, glad to leave a house full of people and fun behind her.
It took me a while, as a brand-new mother, to understand what  baby Q needed when she was crying, which seemed to happen a LOT at the end of the day. The more she cried, the more I tried to comfort her. I rocked her and walked with her and sang to her, but nothing worked. Finally I read in a book that some babies get easily over-stimulated and wound up as they grow tired. The best thing to do is to give them space. So I tried putting the wailing Q in her crib and walking away. It worked—wonderful, of course, but also a difficult thing for all of my maternal instincts to accept.
I'm a Mama in training, and Q is one of my best coaches
As I think of Q turning 12, it strikes me how, in many ways, her personality has been great training for me as I transition into the role of mothering older children.
I have to learn to trust that she knows herself—yes, even better than I know her. When I trust that, I build up that confidence and power in her, helping her to be even more independent, strong and wise in her choices.
I should certainly protect her, but not too much. I have to trust that she can handle life as it comes to her. Every time she faces disappointment or hurt—although it might be painful for us both—I need to remind myself that she can handle it, and she's learning and growing along the way.
And I need to try my hardest to worry less. I am her mother, but I am not God. I can't fix everything, prevent everything, or even understand everything. I guess that's a lesson I began to learn 12 whole years ago, when against all instinct I laid my crying newborn in her crib and walked away.

Similar Posts: