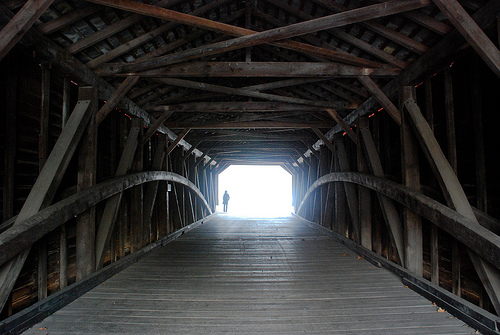 Photo by Eric
"Merry Christmas." That's the phrase most commonly used this time of year, but the season sure has a way of highlighting the misery in our lives, along with the merriment.
We become acutely aware of what we have and don't have—which aspects of our lives have improved and which have gotten worse since the Christmas before. Adults are particularly good at this, but children learn it at an early age, too, especially when it comes to expectations and presents.
Even when I'm not feeling particularly sad in the moment, Christmas and the New Year have a way of prompting me to dwell on what has been sad in my life. I guess there's something about seasonal traditions that unearth memories, and something about memories that bring to mind those much darker times in my life: unhappy Christmases during my first marriage, those years I did my best as a single mom, and how I still spend every other Christmas without my girls, so they can be with their dad.
The light is warmer and brighter next to the dark
I probably shouldn't even be thinking about those things this year, though. After all, I'm sitting at my parents' house in Michigan, with Jason and all three of our girls. My brother is here from Portland, too, and I will get to spend time with both of my grandmothers. On Christmas Eve, Jason's parents, sister and nephew will drive from Chicago to my parents' house. How many couples get to bring together both of their families for the holidays (and can honestly say they're looking forward to it)?
I feel very blessed right now (and just wish there was a less-trite way to say that). I still feel that encroaching darkness, though, so I've finally decided it's OK to give it a curt nod, one that says "I see you there, darkness, but I will not embrace you." Because yes, the light does overcome the darkness, but it still seems important, somehow, to acknowledge that darkness at Christmas. It helps us more fully acknowledge and celebrate the light.
Maybe that's really what this season is about—not just the bridge, God's grace through Jesus, but also the chasm itself. Without the chasm, after all, there would be no reason to celebrate what bridges it. There would be no need for a bridge at all.
Joy to the dark world
And that's what the joy we sing about requires, too: darkness, fear, a chasm. My mom mentioned the idea of joy to me this morning, in reference to an Advent devotional she recently read. We typically use the word "joy" to express happiness that rises above average, but the devotional pointed out that the biblical use of joy tends to involve some darkness, at least in the background.
Joy isn't just happiness, it's happiness that emerges out of the darkness and fear. It's what the shepherds were feeling when the angels appeared, bringing good tidings of great joy. And think about what the teenager Mary must have been feeling when she first held her baby. Just a day before, she had faced a chasm, knowing Jesus was about to be born but not having a room for privacy and comfort, let alone an experienced mother or sister there to help her through the ordeal.
I'm thinking if true joy requires a nod at the darkness, we should try it, and see what happens. I think just writing this post, rather than pretending to ignore the darkness, has already helped me to really see and appreciate the light of this season.

Similar Posts: