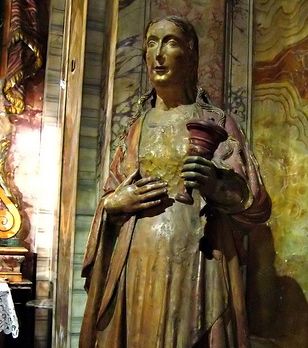 Photo of St. Mary Magdalene by antmoose
Yesterday was All Saints Day and today is All Souls Day. All morning I've been mulling over a group of images and ideas that are collecting in my mind. I was trying to sort through it all and tease out the red thread, so I could share something concise with you.
But then I thought about how much I love to see what emerges as I write, and to see what takes shape later, as all of you add your thoughts. So I'm just going to share my collection, laying it out before you to add to, sort through, rearrange and meditate on along with me.
Joy and sadness, side by side
This morning I went to my daughter's elementary school for a Dia de los Muertos assembly. We were gathering to remember our friend & teacher, Maricela, who died in September of cancer (I wrote about that here). Maricela was quiet, but not shy. Her presence was strong, expressed mostly through her dark eyes, which spoke of compassion and love. Maricela listened with those eyes; she was someone who truly saw you—maybe even saw straight through to your soul.
After S sang with a group of kids, others read poems they wrote, and Maricela's colleagues shared stories about her life. There was so much joy and sadness colliding in that gymnasium. How difficult it is to grasp it all even as an adult! I wonder if the kids can begin to fold the idea of Maricela's death into their comprehension of her love.
Can we even begin to be saints?
In an email my mom sent to me Saturday, she mentioned that she was pulling together her Sunday School lesson for All Saints Day. "My SS lesson says that modern Christianity identifies a saint as 'Any baptized Christian who prays well and loves well.'"
What does it mean to "pray well" and "love well?" What does that really look like? Could I work to become a saint—not in the way we tend to think of it, as a "good, long-suffering, selfless person," but as someone who prays and loves in such a way that the world is changed?
Hate is easier than love
This morning I noticed an incoming link to my blog with the words "What's on your hate list?" I panicked just a bit, thinking it was a cruel twist on my Love List Project series, but I quickly realized it linked to a post at one of my new favorite blogs, Newvine Growing. Colleen has been writing about the Love List Project as a part of a Month of Thanksgiving; today she looks at hate, in an amazingly refreshing way:
What comes easy is hate.
I hate how noisy our upstairs neighbor is, stomping around her apartment and apparently moving furniture and hammering on something at midnight.
I hate the trash scattered all around the subway stop near my office.
I hate that my cat has heart disease and probably won't be with me much longer.
As part of the Month of Thanksgiving, I'm going to try to turn around some of this free-flowing negativity. I'm going to look for things to be grateful for in life's frustrations and disappointments.
This has left me thinking. Can I truly love some things while I'm hating others? "How does hate affect my ability to love well?"
Only one thing can cover all the ugliness
Yesterday in church, this verse was read:
Above all, love each other deeply, because love covers over a multitude of sins.
~ I Peter 4:8
I have heard it many times before, but never quite in the way I heard it yesterday. I'm not sure why.
Maybe because I have been feeling sad about how capable friends and community are of hurting one another—even communities that have joined together around the love of Christ.
Maybe because I was thoughtless and unkind toward Jason on Saturday, when he made a simple mistake. As I apologized later and he forgave me, I was able to see how powerful real love is, when time is taken to carefully, regularly tended.
Maybe because I have been aching with love for my girls as I watch them grow and change. I can see their shortcomings clearly, and sometimes I get so frustrated with them. But that deep, deep love is so much greater.
And I'm more certain than ever it's not just the only thing that can bind together my family and unite my church community—that deep love that covers sin is also the only thing that can change the world.

Similar Posts: