Illustration by Jason Berg
I am very excited about this post—it's the fourth in the Love List Project series, and the first ever guest post at Halfway to Normal. I really couldn't be more pleased to have my dear, long-time friend and talented writer, Carmen Scheidel, be the one sharing herself and her words here. She immediately embraced what the #lovelist concept is all about, and has been exploring all that she loves with the curiosity, reverence and joy I hope we all have.
Carmen's post was inspired by this #lovelist tweet earlier this week: "I read the word Iowa this morning and felt a pang. I loved that sweet old place. #lovelist" I responded: "what did you love about it? the person you were? the things you were doing? the friends you had? the feel of the place?" Here is Carmen's response. I hope it inspires you to share with us a place you have loved, from your past or present.
——–
by Carmen Scheidel
I moved in the fall of 1990, when I was 20, a junior in college. I had just spent the summer in Italy and had a week to pack up and move to Iowa City. My dad drove me in the truck 391 miles from Grand Rapids, Michigan down around Chicago and west on I-80, to Church Street and Dubuque at the bank of the Iowa River. There I was, plopped down of my own volition.
My mind never had time to process the impending move that summer, hopped up as it was learning proper nouns like Jacopo, Gianni, and Franco. Somewhere between fall of my sophomore year and the screech of the jet wheels at Florence Airport, I had gotten annoyed with the waiting list to be an English major at my college in Michigan. I asked a favorite professor what to do. Iowa, she said in a dreamy tone, and started drawing me an inked-up map of the Old Capitol Building that was now the center point of campus, the dentistry building that's shaped like a molar, and even a good bar called The Sanctuary. The next day in Second Year Italian II, she handed me a copy of John Cheever's essay "An Afternoon Walk in Iowa City, Iowa."
A couple of semesters later, I was there walking around my new home. Pearson's pharmacy had a soda fountain in the back that sold ham salad sandwiches and malted milkshakes. The gas station one block up had a tiny sliver of dirt where cornstalks grew up like peonies. The winner of the Iowa Pork Queen Contest smiled out at me from snapshots posted on a restaurant window. The place felt outsized in its wholesomeness. It felt safe. Yet I was far from home and it occurred to me for the first time that I didn't know a single person.
I soon learned that Iowa City was a Mecca for all of the whip-smart misfits who didn't exactly blend with their farm towns. Anyone gay, anyone artistic, anyone who wanted out or wanted more came there. You could find them at Prairie Lights Books. Breugger's Bagels. Great Midwestern Coffee Shop. At the Deadwood, half biker bar, half student hang, the juke box spit out the Pretenders and the bartender shouted out their names—Michael!….John!—when they received calls on the payphone.
The place was amazing to me. In winter, the skies were bright blue. It was freezing, of course, but the sun was out! I had never seen anything like this. In Grand Rapids, the winter weather patterns gathered force above Lake Michigan and created an opaque tent of stratus clouds—white—almost every day of the year. I never imagined my world could be another way.
My extended family thought it was strange that I was there. Iowa? they asked. Iowa! No one on either side of the family really left a 20-mile radius of where our apple-farming forebears landed in the 1850s. When it was time for college, I can remember my dad pleading, It would mean the world to me if you finished your first year. I was the first of the generations in line to do it. I had been a B student in middle school, boldly proclaiming to my mother that I wasn't going to be like my studious older sister, I was going to have fun! But my sister's path had grown complicated in the years surrounding my parents' divorce, and she quit med school before she really started.
The little communal house on Church Street in Iowa City was my first home as an adult. My room was off the kitchen and felt like an oasis of pale green shag. I ran up my phone bill, read more than I ever had in my life, took long baths. I didn't know what my career would be, but I knew I wanted one. I hid inside the room on Saturday mornings when the landlord came in to maniacally wax the living room furniture, cursing all of her renters as she went. By afternoon, she'd be gone and I'd join the Chinese and Japanese grad students in the kitchen to cook rice or ramen.
Some nights, keeping up with reading and trying to comprehend Italo Calvino in Italian was just plain hard. I got frustrated one night and threw both the book and the dictionary across the living room like a dud firecracker that split into two. One of the grad students came in. "How is your night?" Good, I said. And she left. I picked up Creative Visualization which was in the stack on the couch next to me.
What was the alternative? Start throwing a tantrum and call my dad to pick me up? I read the part about attaining what you want by envisioning it inside a beautiful pink bubble. I willed myself to master Calvino and get straight 'A's. I wrapped it all inside the bubble. If I was going to be in this faraway land, I wanted to make it worth it.
On campus during finals week I was in a hurry to get to the admin office and trek down the hill to meet a professor, I caught myself walking just like my dad: with purpose, heels hard to the ground, charging across the sidewalk to get things done and feeling good about it. It made me miss everyone at home, yet I smiled, catching myself doing something so ingrained. I was a part of them, but I was also defining myself apart. I was experiencing a world of my own creation and I loved it!
I took more and more literature classes and studied writing. Report cards came in with good results. (Really? It was that easy? Creating the life you want—I so wanted—was actually possible?) It took months for me to realize that it wasn't a fluke.
In Iowa City I first realized that I could land in a cornfield to study something as obscure and unmarketable in my rustbelt town as Italian literature. I could dream up a plan and make it happen. There was nothing so empowering.
Years later I would use what I learned in Iowa to propel me to New York. The city would be a much tougher landing, but the drill was the same. Pick up that sweet little life and push ahead to what you want.
I still love that quirky town in the middle of Iowa because it showed me that I could be whoever I wanted to be.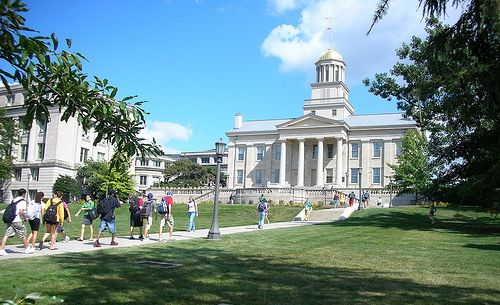 Similar Posts: