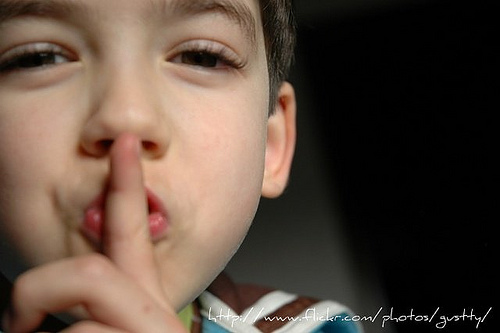 "Always tell the truth." It seems like one of the most straight-forward parenting maxims around. After all, it's not like teaching our kids about religion or sex, or demonstrating to them what success and happiness look like, and how to achieve it. Lying is wrong, period. Even very small lies leave vacuums for bigger lies to fill, and they never result in anything but grief.
I've been thinking about truth-telling a lot, lately. First, there was the now-famous "You lie!" outburst by Rep. Joe Wilson during  President Obama's healthcare speech a month ago. Then, last Thursday, Jason and I went to see the movie "The Informant!" as David Letterman was practicing some of his own truth-telling on national television. Both situations offer classic illustrations of what lying and truth look like, albeit on a large scale.
In "The Informant," which is based on a true story, the main character's inability to tell the truth snowballs over time—a compulsive lying habit that leads to a prison sentence. In Letterman's case, while some applauded his confessional honesty about his affairs, others have criticize him for waiting until he was blackmailed to come clean.
In both scenarios, I think the ultimate lesson to be learned is the same: Tell the truth. All the time. But they also illustrate that lying is not as black and white as we'd like to think it is, and our kids learn that (or instinctively know that?) at a very young age.
Is it possible that when we, as parents, present lying as utterly clear-cut, we are doing them a disservice? When we pretend that something is simple, rather than complex, are we encouraging them to hide more, bury more, and internalize more guilt and confusion about their thoughts, feelings and temptations?
What happens when I don't tell my kids the truth?
This morning, as I walked S to her elementary school, we passed our next door neighbors' house, with its "Sale Pending" for sale sign in the yard. S, who has been struggling with a series of disappointments lately regarding close friends switching to private schools and moving out of town, said "I really hope a family with kids bought their house. I think someone with kids probably did, since the house is so big, and it has a play set in the yard and is so close to the school."
I replied, "That would be fun, but I don't know. We'll have to see."
In fact, I do know. A wealthy grandma bought the four-plus bedroom house—perhaps the most expensive one on our street—for her college student granddaughter and some roommates. Who knows who will live there when the granddaughter is done with school. It is a truth I am frustrated and even angry about, so I chose not to tell it.
Of course, I'm not lying, exactly. And my decision to withhold the truth comes out of love for my daughter—my desire to not upset her on her way to school, and my desperate hope that this truth will somehow change, melt away, and not need to be told at all. Our motivations count for something, don't they?
I have to wonder, though, is there really a better time to tell the truth? Is there value in warming up to a truth we don't like—coming to terms with it internally, then maybe telling part of it now and the rest of it later? Or do we end up with a pile of falseness that becomes too big to face, the way credit card debt grows into something monstrous? And we're left declaring bankruptcy on a debt of lies, much like David Letterman was?
I feel like I know the answers to these things on a big scale, but when I go back to my interaction with S this morning, everything is less clear. I am, however, left with this truth: Truth-telling and lies are not as black and white as we pretend, and I think we need to engage our kids in conversations about those complexities.

Similar Posts: