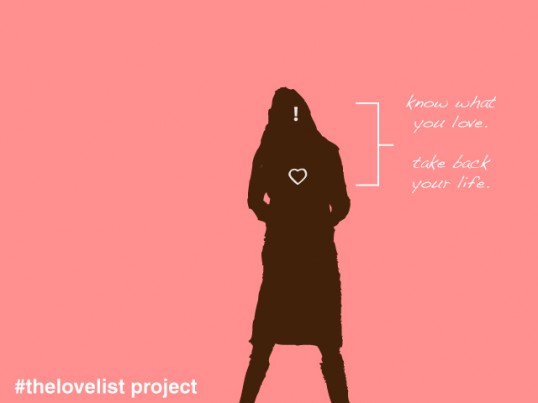 Illustration by Jason Berg
Note: Although a "love list" might sound girly, this is not a project just for females (and it's not for couples)! It's for any individual who wants to identify and then claim more of what they love in their lives.
OK, now that I got that out of the way, I can start sharing some details. In Wednesday's post, I brought up the idea of a "love list," a list that you make over time detailing the things you love most in life—the things that make you feel most content in the world, and most like you.
The concept generated a response from many of you, both here and on Twitter. One Twitter pal, @MoJoJules, mentioned how much she enjoyed the post, so I responded with "I think we should both make #lovelists & figure out how to get more of what we love in our lives. (like you needed an assignment!)." Her response: "girl get out of my head! I was thinking that! #lovelist ideas later! :)"
Then a few others caught wind of this love list idea, and asked what it was all about. Even though these lists need to be individual and personal, I began envisioning a way to work on them together, sharing and encouraging one another along the way. Here are some random thoughts I've come up with so far (but I really need YOU to help me shape how this might work, so speak up!).
- Start making your love list. My writer friend Julie Hammonds, who introduced me to this concept, taped several pieces of paper together on her pantry door, where she could see her list grow (she also used crayons and color to express moods and themes). You might want to carry around a small notebook, or keep a list in your iPhone. The important thing, I think, is to add to the list as moments strike you, not to sit down and brainstorm or try to write as many things on it as you can in one sitting. Any time you feel completely filled up with the goodness of something you just did or something that happened—something you saw or heard, or an interaction—add it to the list.
- Push your list deeper by asking why. For instance, I might write on my list "I love interacting with people who leave comments on my blog" (I really really do!). And that's a fine thing to put on this list, but then I should probably push myself to identify what I love about it: I love sharing and hearing stories; I love connecting with new, interesting people; I love knowing that in some small way I'm helping others sort through their complex lives. I would also put this on my list: "I love taking care of errands on foot or by bike." But what's at the heart of that? First of all, living in a neighborhood that makes that possible. Second of all, having enough time in my day to tackle my errands at a slower pace. And I think I just love the feeling of accomplishing something that I need to do, like go to the post office or store, in a way that exposes me to neighbors, sights, and time to think and stretch my limbs.
- Share parts of your list on Twitter. If you are already on Twitter, you probably know how hashtags work—they create a link to a list of every tweet that includes that hashtag. For this project, the hashtag will be #lovelist. (NOTE: ON OCTOBER 18 I CHANGED THE TAG TO #thelovelist, AFTER DISCOVERING THAT A RAPPER WITH MORE THAN A MILLION FOLLOWERS HAD TAKEN OVER THE ORIGINAL HASHTAG.) Those of you on Twitter can join me in either share an item or revelation from your list, or you can create some of your list through your tweets. For instance, yesterday I tweeted this: "makin me happy: a delicious lunch (a papusa and a salad) with one of my favorite friends." I was thinking about how whole I feel after I've had a chance to spend time with someone I can completely be myself with, and I thought, "That's a big love list item for me!" Next time I tweet something like that, I'm going to include the #lovelist hashtag.
- Share your love list progress here on Fridays. I haven't tried a weekly blog theme before, but I'm going to give it a go. Fridays, at least for a while, will be devoted to the love list project. I might write a post that spins off of one item I've added to my list; I might write about what I'm discovering about myself in general, through making my list; I might simply share my list and make that my post. I also want all of you to share your progress in the comments, and I might even ask some of you to consider writing a guest post for the Friday love list project. What do you think about that? :)
Really, I'd love to hear what you think about all of this. Do you want to participate? Do you like the idea of a weekly touchpoint here at Halfway to Normal? Does having group support make it easier, or does it make it harder to be honest with yourself?
Most importantly, do you think making a love list will help you take back your life?

Similar Posts: