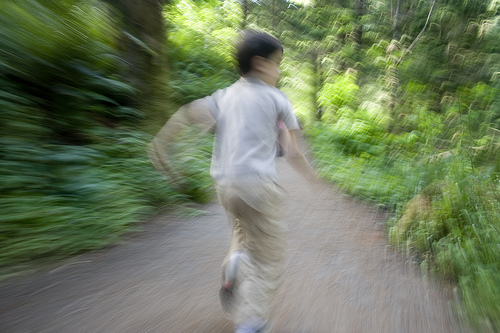 When I was in college, living in the dorms, we had a field day each fall, involving everything from straight-up sports like softball to crazy relays and mud fights. One of the relays involved running across the soccer field with a partner, probably after doing something crazy at the other end. I don't remember the crazy part, just the running with Terry, the very tall guy I happened to be paired with.
Terry was lithe and long-legged, full of energy and a competitive spirit. Terry could run like the wind; I, in effect, became one with the wind.
I'll never forget the feeling of running across that field. Terry essentially pulled me up and along by our clasped hands, his long legs propelling us as my feet pedaled the air frantically, occasionally making brief contact with the earth. I must have looked like a cartoon character, scrambling without traction, ready at any moment to fly sprawling on my face. I was simply hanging on for dear life.
That's what my life has felt like for the past month or so, and I don't like it. It's not exhilarating, it's exhausting. It makes me feel like I'm running a race that isn't mine, on legs I don't control. It makes me feel like I'm always on the brink of a major wipe out. Something has to change.
The practical
This past week, I've started to take some really practical steps toward taking back my life—baby steps, not the full speed ahead kind.
I committed to a new gym routine, one that's regular but not overly ambitious. I've been getting in lots of physical activity all summer—walking the dog, biking to the coworking space, working in the yard—but I haven't had that regular, sustained kind of exercise that gets your heart pumping and makes you really sweat. I need that for physical and mental health, and I'm the only one who's going to make it happen.
I'm learning to delegate more, and even say no. Last week, at a worship leaders' meeting at church, I found myself getting excited about new ideas and my willingness to help make them happen. Mid-meeting, I stopped myself, and even spoke up about my hereditary problem of being too optimistic about what I can do with the hours in a day. I scaled back my involvement to something more reasonable, and even pinpointed the most stressful, time-consuming aspect of leading worship for me: the planning. Then, a few days later, I completely delegated the planning of this Sunday's service to a friend with gifts in that area. It felt great.
I'm devising strategies for doing battle with stress. Stress is one of the things I really need to manage. It comes in many forms, and feeds itself into areas that otherwise don't need to be stressful. There's stress about money; Jason and I talked about trying a cash-only budget plan for a month, for groceries and pocket money. There's stress about a messy house; I've been more firm about recruiting the kids to help. On busy evenings, like yesterday, Jason and I have decided to abandon our elaborate meal plan for something much simpler, involving fewer dishes. And I'm making all that overwhelms me around the house more manageable by setting a "cleaning timer" for 20 minutes, tackling as much clutter as possible, then letting go. Baby steps are important.
The emotional
Perhaps the even bigger issue, though—the one that's more elusive and eats away at my core if I ignore it—is taking back that part of my life that embodies who I am and what I love. It's the emotional-spiritual-personal part of me that slowly dies when I forget to feed it.
A writer I know, Julie Hammonds, devised something she calls "The Love List." (She writes about it in her essay in the book Ask Me About My Divorce, which also includes an essay I wrote.) When Julie was recently divorced and at a crossroads in her life, she taped a large piece of paper on her pantry door, and wrote at the top "What do you love?" She was determined to grow her future in the fertile ground of what she loves most in life—what makes her feel very much alive, and very much herself.
I feel like I've lost much of that connection to what I love. From time to time, I glance at this race I'm running and don't know how I got here, or why I'm running it at all. Although I'm certainly not at a sad moment in my life, or a significant crossroads, it seems like the right moment to start making a love list, as the groundwork for taking back my life.

Similar Posts: