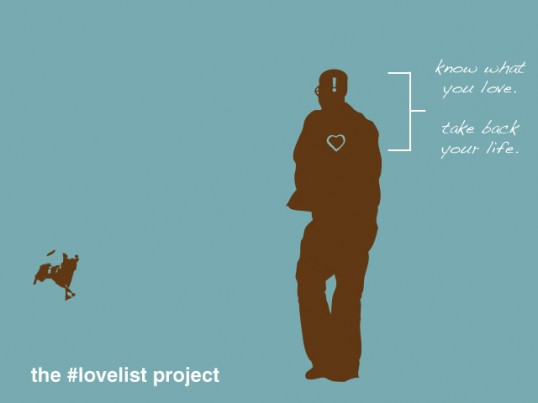 Illustration by Jason Berg
Welcome to installment #2 of the Love List Project! (If you need some background, read these posts: Taking back my life and The Love List Project.)
This week, just to keep things moving as we continue to figure out how this project might develop, I'm going to share what I have on my list so far. I'm also going to share a sampling of Twitter posts with the #lovelist hashtag, so we can see how others are interpreting the concept.
There's really no right or wrong way to make a love list. I'm sort of making it up as I go. I just hope as our lists develop we can begin to adjust and shape our lives around them, to some extent. The point of the Love List Project isn't to just give ourselves occasional shots of happy elixir, it's to make our lives more full and rich, and more affirming of who we really are.
OK, here's my list:
- I love having a front porch & having the luxury of enough open-ended time to really enjoy it.
- I love hanging out with good friends when there's no agenda, and the conversation is rambling & full of good stories.
- I love standing really close to J at crowded concerts, where it's too loud to talk so we just share space & experience instead.
- I love Saturday mornings that are free of concrete plans (other than drinking coffee, cooking a big b-fast & listening to npr).
- An Iron & Wine concert reminds me what I love so much about words & music. I'm completely transported by story, image, sound.
- I love dinner w the whole family around the table, and maybe an extra random person or two.
- A fun night at home with J & all 3 of our silly girls always makes everything better.
- I love traveling because it snaps me out of my usual routine & environment. so many new things to see & ponder!
- I love it when I have the courage to open up to a stranger—I'm often surprised by how much we share in common & connect.
When I look at the list as a whole, I definitely notice some themes. One is that I crave open-ended blocks of time and the organic experiences that flourish there. These next few weeks I'm definitely going to be thinking more about how I schedule my life, what's necessary and what isn't.
Now for some of your #lovelist entries. (If you aren't on Twitter, I really hope you'll feel like sharing some pieces of your love list with us in the comments section here.)
- When I get off the bus in the morning, and the streets are quiet, it reminds me this city belongs to me. And, I love it. @Lesley3fold

- I love ending a nutty day full of stress with a good talk with my gf. @MoJoJules

- I love the way my dog (Romeo the pomeranian) is always happy to see me. @lizdyer

- I love the inspiration that happens when sermons come together. @RogueReverend

- Today I woke up to my 5 year old saying "I can't wait to start my day" @mixmade

– I love the affirmation of friends who have no agenda other than accompanying me on my journey! @Debbe_Perry

- I love making things beautiful: editing writing, cleaning a corner, untangling a problem through words. @scheidel

- I love it when people drop by unexpectedly. Apple pie, a bit of ice cream, wine and listening to @rustytriebert play guitar. @mikelarussell
- I love that my street reminds me of the feeling of dorm life – "sure come on over and hang out." @OSG

- Home made cream of acorn squash soup makes me oh so happy. @delightedscribb

- Few things are better than great friends, good food and interesting conversations. @McMer314

- Received a "thinking of you" email from someone who is crazy busy, but took the time to actually think of me. @lje2me
- I love the act of storytelling: listening, learning, reciprocating. @scheidel
- I love wearing things that remind me of people I love. Today: crisp white collard shirt=my sister, ring=my gram, jeans=friendstacy @revjulie
- music, family, my little boys heads at night to kiss and sniff. @dtatusko
- being at work (at the library) hence, when someone recommends a book, I can request it or go to stacks. @suzigurl

- enjoying simple pleasures: french vanilla coffee from dunkin' donuts. @starxlr8
And I must say, I'm really curious to know what you've been thinking. Does having a more concrete awareness of what you love make you feel differently about your life? Do you find yourself living differently, or wanting to make adjustments? Have you found that many of the things you love most are things you already have, and you just want to make sure life doesn't crowd them out? Are you comfortable with the things you love, or do you feel some abstract pressure to love other types of things?
Btw, isn't the illustration Jason made for me great? If you're writing a #lovelist related post on your blog and planning to link back here, let me know if you'd like to use the graphic, too.
Similar Posts: