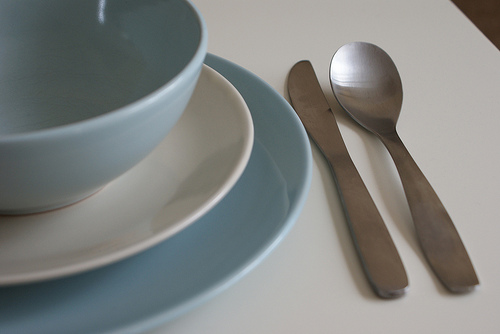 Opposites may attract, but there's a lot to be said for going through life with someone who seems to share your brain.
I can safely say this, having been married for a decade to someone who decidedly did NOT share my brain. Now, two years after marrying Jason, while I would never claim that any marriage is a breeze, I can say without a doubt that not every marriage is destined to be a major struggle.
There are many ways to "share the same mind" with someone, from how you problem solve to how you react in various situations. One of the big ones, though, manifests itself in a shared love for the same things. I've been thinking about this a lot the past week as I've been mulling over what I love most in life, for the Love List Project. While the project is meant to be tackled as an individual, it's hard to deny how much easier it is to enjoy the things on your love list when your spouse or partner loves them, too.
Here's an example: I love sharing my home, food and hospitality. Thankfully, Jason does, too. Not only are we both OK with having people over, it's one of our favorite things to do—as long as we have the time to cook, clean and eventually relax the way we like to, that is.
Recently we've taken this activity we love to an extreme. One of Jason's colleagues has been staying with us for almost two weeks, now. This is a stretch, even for me, an extrovert who doesn't need as much privacy as some people. Our day to day life can be complicated. We have one bathroom, three kids, a dog, and a lot of commitments. Offering warm hospitality for an extended period of time could easily feel overwhelming.
Amazingly, though, it's gone really well.  It certainly helps that Nate, our guest, is one of the nicest guys I've ever met. It also helps that when we throw ourselves into something we love, it can energize and inspire us, offsetting the ways it might also drain and wear on us.
But what helps the most is that Jason and I are in our element together, working side-by-side to accomplish something that matters to us—making someone comfortable and at home, serving some of our favorite meals, and engaging in different conversations around the dinner table, as we deepen a new friendship.
Suddenly, because Jason and I took on something we love together, we were able to transform what could easily be stressful into a rewarding labor of love. I feel very grateful for that.

Similar Posts: