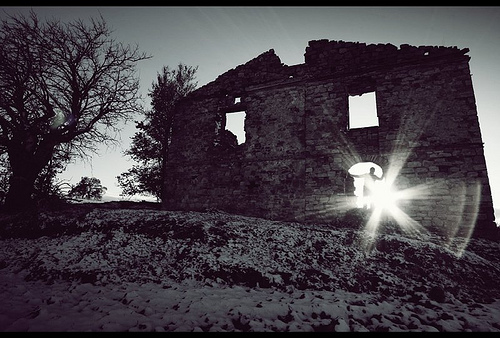 I'm trying to figure something out, and it's going to require that I do some generalizing here, so please bear with me.
If Christians believe that God is good and all powerful and on their side, why do they seem so much more afraid than everyone else?
Because that's the main thing I get, when I look around at mainstream Christian blogs and news outlets and I catch wind of what's being preached from the pulpits of many evangelical churches: Fear.
There's the fear that our kids might actually like and look up to a liberal politician—a black one at that!—if they watch President Obama talk to them tomorrow about working harder and staying committed to their education. Because let's face it, people really can't think that Obama's secret plan is to indoctrinate their children with his socialist agenda, as some far-right critics have claimed. (There's an overview of the controversy here, and an interesting tie between Obama and trustworthy nature of Mr. Rogers here.)
Then there's the fear that if your church or denomination—or even your state—has a reasonable dialogue around the issue of homosexuality, something really bad will happen to innocent old you.
For instance, you might get caught in a Jesus-orchestrated tornado, or God might get busy starting some divine fires. Because, you know, God isn't very clever or creative, so he always resorts to natural disasters when he wants to get our attention about something that isn't remotely related to our shameful treatment of the environment.
And what about the predominantly Christian fear surrounding sex education? The type of sex education that isn't focused solely on abstinence-only forms of birth control and STD prevention. What are people afraid of? That too much accurate information might give our kids ideas they don't already have.
When someone does unintentionally get pregnant (perhaps because they weren't fully informed?), there's fear, too, and not just about abortion. What if these babies who didn't get aborted are raised in non-Christian, liberal homes? Maybe even by single moms! Gasp! Trying to actually help these women find places to live and ways to support themselves and their babies is just too risky. Christians should just adopt them all. (Check out the article "Shotgun Adoption" in the September 14 edition of The Nation.)
What are we afraid of?
We are all entitled to our political opinions, our interpretations of the Bible, and our understanding of who God is and how he works in the world, so I'm going to share mine: God does not use fear to communicate, manipulate or otherwise discipline us. Plenty of Christians might do that—and non-Christians, too—but we should know by now that God's people too often don't follow God's lead.
As one of my favorite verses in the New Testament state, "For God did not give us a spirit of fear, but of power, love and self-control." (2 Timothy 1:7)
Can we just try using that as our guide to help us determine if some communication or idea is actually from God? Again, I'm not saying we can't disagree and feel strongly about one of these issues I've mentioned, but can we at least honestly ask ourselves "Are my feelings about this rooted in any form of fear?"
Because maybe the number one thing we're afraid of is the prospect of asking ourselves the question: What am I afraid of?

Similar Posts: