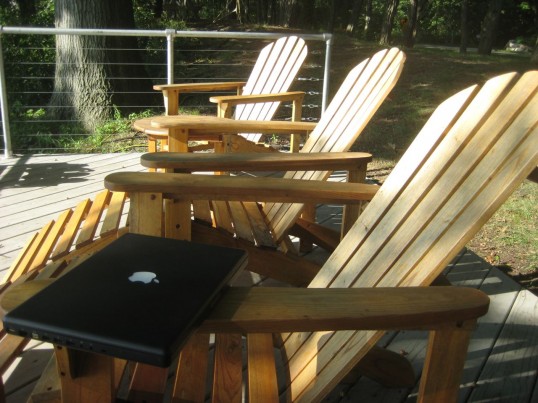 That is the question. At least it has been for me these last few days. Our family is at a cottage on Lake Michigan—our annual summer getaway. Because I'm often a divided person, this is the sort of conversation (argument?) the three prominent parts of me been carrying on in my head:
Professional Me: It's Tuesday. I always blog on Monday, but I haven't blogged since . Do people know I'm on vacation? Will they decide I'm not a very serious blogger, because I didn't write several posts ahead of time and set them to automatically publish while I'm away, pretending to relax?
Mama Me: That's ridiculous. You're on vacation. You can't let your blog run your life. Sometimes you have to let go. If you can't relax like normal people, you have to make yourself relax. Focus all of your attention on your family. The blog will be there when you get back. If the audience isn't, then good riddance.
Me Me: Those are all fine points, but you're missing the real issue: I can't go a week without writing. I feel like I'm starting to suffocate—like all the oxygen is being sucked from my world. If I don't have an outlet for all of my thoughts and ideas, I'll be distracted and grumpy. I won't even be able to fully enjoy these days with my kids, unless I create some balance for myself.
Mama Me: Oh, so this vacation is all about you? Do you think the kids are going to remember the great blog post you wrote during vacation, 2009? You can't set your needs aside for one week? Did your mom ever do anything for herself on family vacations?
Me Me: Exactly. Maybe if she would have, I wouldn't be dealing with all the inner Mama guilt. The kids don't need me to be focusing on them every minute. They need me to be happy and content. In order to be who I am, I have to write. Not as much as usual, but I have to write at least a little.
Professional Me: All I know, is that if I can't locate a decent wireless signal sometime soon, I'm going to slowly start losing it. Then you'll all be sorry. It's almost impossible to relax, knowing the entire social media realm is buzzing along, and I can't access it when I want to. Not all the time of course—just if I need to!
Mama Me: If anyone ruins this vacation it's going to be you. And that computer. Which you shouldn't have even brought. There—I said it.
Me Me: [Sneaks away with a notebook and pen, to write down her thoughts in peace.]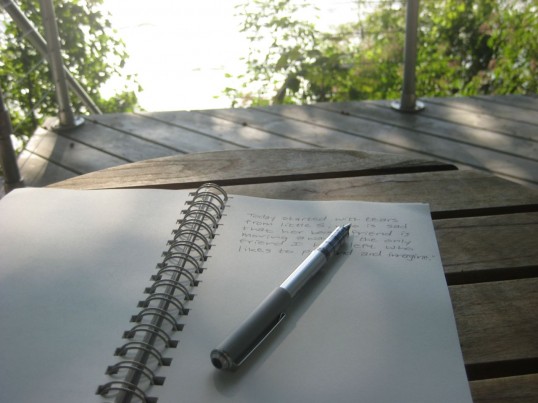 Similar Posts: