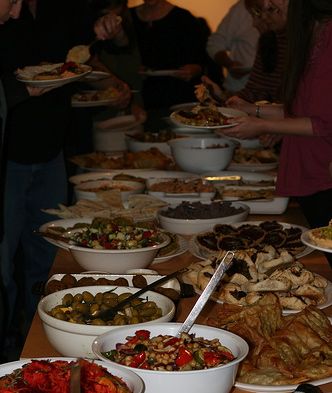 We don't like to see ourselves as all-or-nothing types, but I suspect most of us probably are. At least to some extent. We're just good at being subtle about it.
Most of the time, we're functioning with an on-off switch that's activated intuitively and instantaneously. We glance at something or someone, decide whether they're for us or not, and then engage or move on. We're far less likely to hang out in the  nether-regions, where we experiment and explore, take a bit of this and a bit of that along the way to deciding which parts we like and which we could do without.
(An aside: One of the things I love so much about YOU, the readers of my blog, is that you seem to be extra willing to explore and engage in a whole range of ideas.)
Gleaning interesting ideas in unexpected places
I started thinking about this idea of being all-or-nothing as people were gathering at Powell's for the reading I was recently involved in, for the book Ask Me About My Divorce. I assumed most of the people there had probably experienced divorce. That, of course, is why they had come, right? My brother and his good friend, however, came to the reading simply to support me. Neither of them has even been married, let alone divorced. I jumped to the conclusion "this won't be for them—I hope they're not too bored."
As it turned out, my brother said he found himself very intrigued and engaged—and also surprised that he was. Sure, there were significant parts of these women's stories that he couldn't relate to at all, but there were other, broad-sweeping themes that applied very much to him, and made him think: Themes surrounding what we love, what we fear, what we're capable of, and how we go about making the sort of life we want, even out of less-than-perfect circumstances. There was something for everyone, even if everything wasn't for everyone.
Why the focus on an all-or-nothing faith?
When I realized how quick I am to dismiss something as "not for me," it made me think how all-or-nothing many of us tend to be about faith and religion. You either believe or you don't. You accept the entire Bible or reject it all. You're the type who goes to church or you don't—the type who browses in the religion section of the bookstore or avoids it all together.
Certainly not everyone is like this, but I get the feeling it's pretty common. And I think religious establishments are to blame. I can only speak from a very limited perspective, as one person who was brought up as a Christian, but I think too many churches and religious groups deliberately focus on an all-or-nothing approach to evangelism and outreach. They present this enormous pill and ask others to swallow it whole; if they don't, those Christians often assume the worst of you and move on.
So here's what I'm thinking: Wouldn't it be great if people of faith gave people who aren't so sure what they believe lots more breathing room? So it's less like a guided tour with a quiz at the end and more like a hands-on children's museum, with so much to explore?
What if we encouraged them to go a la carte, at least for the time being—to say "I like this part of what you believe, over here, but I don't think I can accept this part"?
What if belief was presented less like a pre-plated meal, with the objective being to entirely clean your plate (or you won't get any dessert)? What if it was more like a potluck, with the immediate goal simply "being fed," even if it's just a snack, or dessert before veggies?

Maybe we're afraid of our faith being partially accepted and partially rejected, because it makes us uncomfortable and defensive. But shouldn't we be more concerned that people leave our table hungry and wanting? Or that they are inclined to avoid it altogether?

Similar Posts: