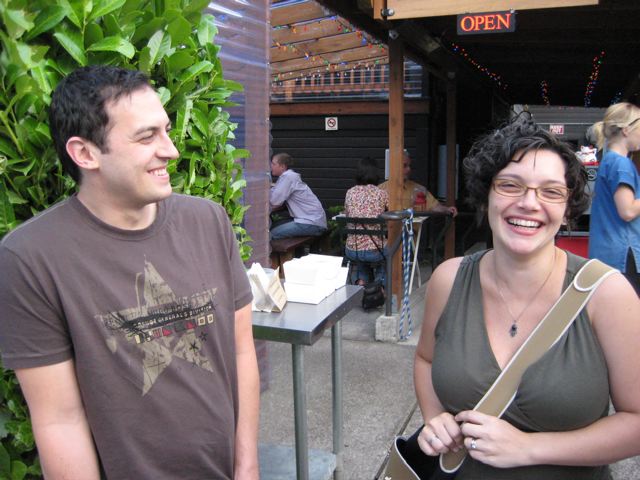 Valentina and her husband Jeremy
Some people love Facebook a bit too much, I think. Other people can't stop complaining about it.
I try to approach it with some healthy moderation. In the end, I think my life is more meaningful and interesting with it than it was without it.
Here are two stories I probably wouldn't be able to tell without Facebook.
Meeting Valentina
OK, I'm going to explain how I'm connected to Valentina. Pay close attention, because this is bizarre.
My first one-degree-of-separation connection to Valentina is about a decade old. She's one of my brother's close friends in Portland. Bill met Valentina and her husband Jeremy shortly after he moved there, and I met them briefly during a visit to Portland in 2004 (or maybe it was 2005).
My second connection to Valentina was uncovered last summer, thanks to Facebook. Jason and I had recently returned from our week at the cottage we rent on Lake Michigan. Brother Bill, who had flown in from Portland to join us at the lake, was in many of the vacation photos we were uploading and tagging on Facebook. Valentina noticed that photos of Bill were being tagged by Jason, a high school boyfriend of hers in Evanston, Illinois, some 20 years ago!
Yes, you got that right: Valentina dated my husband, later moved to Portland  and became friends with my brother. After all of that took place, I met then married Jason.
And last week, when Jason and I were in Portland visiting Bill, we had a great time having dinner with the lovely (and pregnant) Valentina and her husband Jeremy. How fun and crazy is that? Just think how many surprising connections have always existed, but not been uncovered pre-Facebook.
Reuniting with Jen
Tuesday evening, exactly a week after our dinner with Valentina, Jason made dinner for a dear friend I haven't seen since 1992. That was the year she and her then-boyfriend (now husband) drove from Pittsburgh to Michigan to attend my first wedding. Jen and I kept in touch, on and off, until 1997/98, when we were both pregnant with our first babies. Then life and geography (and who knows what else) gently pried us apart, and we completely lost contact.
About six months ago, Jen unexpectedly surfaced in my mind—more than once. It occurred to me that she might be on Facebook. After digging through the far reaches of my memory for her married name (and how to spell it), I did a Facebook search and there she was! (I wrote that story, A lost and found friend, back in December.)
We wrote back and forth on Facebook, trying to catch one another up on our lives (more babies for us both, plus a move, a divorce and a new marriage for me). I urged Jen to get active on Twitter, for the extra "ambient awareness." More recently we made plans for her (with husband and kids) to stop through Urbana on their way from Tulsa to Pittsburgh to visit Jen's family.
So on Tuesday evening, there she was on my porch, in the flesh, giving me a big hug. There were her kids, meeting my kids, (including the 11-year-olds we were pregnant with or had just given birth to when we last talked). There was Kurt, her husband, helping Jason with the dishes after dinner, while Jen and I took a weaving walk through the dark neighborhood, feeling overwhelmed by how much there was to ask and tell, and how brief our time would be, together.
But at the same time, our visit didn't feel like our one and only chance to reconnect. It just made me instantly remember all the reasons I was drawn to Jen in the first place, and why our connection can once again feel so strong. We will see each other again, despite the nine hours between our homes.
And of course, there's always Twitter and Facebook.

Similar Posts: