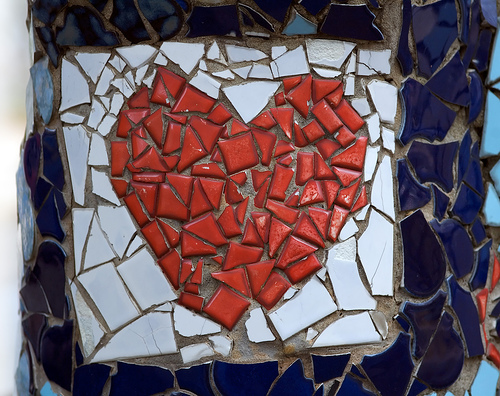 I was sitting on a bench on Main Street this morning, checking my email while waiting for the co-working space to open. Across the street a man talking on his phone began pacing. Then he began yelling. And swearing.
I busied myself by looking down at my phone, navigating to Twitter to see what was going on there. The furious yelling continued across the street, making me cringe. It became apparent the man was talking to his wife. They were either in the process of getting a divorce, or they were at that place where you threaten it—to get your spouse's attention, or to gauge their reaction as well as your own.
While I initially felt protective of the woman on the other end of the line—partly because I'm a woman, partly because I could only hear his yelling and swearing, not hers—as the man stuffed his phone into his jeans pocket, I felt a surge of compassion for him. It was so strong, I almost rushed across the street to him.
Offering crumbs of hope in hard times
What would I say, I wondered?
Well, I would start by telling him that everything will be OK. Maybe not right away, but eventually. I would tell him that my ex-husband and I did a lot of yelling and exchanged a lot hatred, too, and that it's normal but it doesn't help—it's the sort of thing you'll regret, even if you don't regret the actual divorce.
I would tell him that having a kind relationship with your ex down the road is the best thing you can do for your kids. And I would add that anger now doesn't necessarily preclude a good relationship with your ex later. Allow time to heal, and be open to the right moments to extend kindness and forgiveness.
Finally, I would urge him to find someone he can talk to, whether it's a friend, a counselor or a pastor (I recommend the non-judgmental sort). Even if he thinks he's the kind of person who prefers to sort through hard times alone, saying out loud what you're thinking can really help diffuse the anger and bring perspective. Trying to be a rock won't do anyone any good.
But what can you really say to someone in the middle of that heartache, even if you've been there (or in the vicinity) before? All you can say is "My heart aches for you. Divorce sucks."
Balancing stories of pain and hope
The pain doesn't have to engulf the whole story, though. The book that my own divorce story was published in, Ask Me About My Divorce, offers a refreshingly positive book on the subject. Its main message is this: Divorce may not be what you ever imagined or hoped for, but it can be an "escape hatch into a better life." The book pushes beyond the stigma and stereotypes. It offers hope. (I've referenced the book in several posts, including here.)
I love the message, but there is a tiny part of me that worries about over-romanticizing divorce, even a little. The women in the book all write frankly about their struggles and pain, but in the end, their lives have all improved. My own post-divorce life feels like a fairy tale sometimes, mostly because I met Jason. I know those happy endings are not the case for everyone who gets divorced.
So I guess that's what really struck me this morning, as I listened to the man across the street arguing with his wife: Divorce is incredibly painful—not just for you, but for many people connected to you.
And although you can control your actions in the midst of the divorce, and positively adjust your attitude toward life after the divorce, it doesn't guarantee you'll find yourself in a picture-perfect life on the other side. I was pretty miserable for three years after my divorce (and several before it). Others don't find their way out of the pain for a decade or more. It might always be a struggle—just a different kind of struggle than the one they dealt with daily in their marriage.
I'm not trying to be discouraging, or a downer. There's more than enough of that perspective to go around, when it comes to divorce. I just felt the need to balance what might, at times, look like my "pro-divorce" stance, with a healthy dose of realism.
I also want to say this: If you're struggling somewhere between hope and despair in your own marraige or divorce, my heart is aching—and filled with hope—for you too.

Similar Posts: