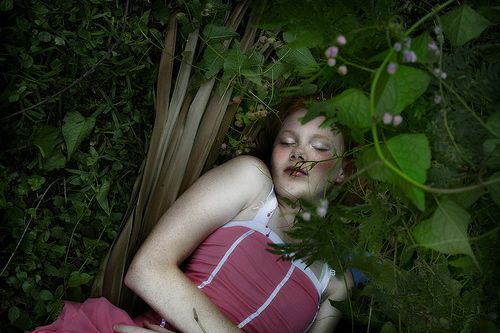 I hate thinking about money. I've never enjoyed it, but lately money matters seem more bothersome than usual.
It's one thing to deny myself a new pair of shoes, or to decide to eat leftovers for lunch rather than go out. I can handle that. But when there are experiences I really want my kids to have, and I find myself hesitating because of the expense, I hate money more than ever.
Yesterday I was looking at the schedule for the Illinois Shakespeare Festival. They're doing "A Midsummer Night's Dream," a play all three of our girls were pouring over last summer, fueled by one of their Big Dreams to put on a full-fledged production with neighbors and friends in our backyard. They would LOVE to see a professional production of the play. I just know it. To see it outside—and to picnic on the lawn beforehand, and buy ice cream from a quaint cart—would thrill them to no end.
Money: The original party pooper
I found a performance date that works, and clicked the link to purchase tickets. What?!? One hundred and fifty dollars?!? I'm a fan of supporting the arts, and I know quality entertainment costs real money. But I just wasn't prepared to spend $150 for our family to see a play in Normal, Illinois.
I hesitated, credit card in hand. A list of things $150 will buy began scrolling through the monitor of my mind. Four nice pairs of kids' shoes (or one or two nice pairs for me). A dozen books. Tickets for Jason and I to go to three live music shows. A nice coffee maker, so I don't need to pour boiling water over grounds, by hand, every day when I make coffee. The list kept scrolling.
Then I felt horribly guilty. And selfish. And unsupportive of the arts, probably the number one thing I was raised to support.
So what if $150 buys a week's worth of groceries? We'll just eat lots of eggs, beans and rice for a couple of weeks. We'll take peanut butter and jelly sandwiches to the park after church rather than going out for brunch. I'll boycott Target for a month. One hundred and fifty dollars is a big deal only if I decide to make it one.
What are we teaching our kids about money and priorities?
Money wasn't talked about much in my house when I was a kid, but my brother and I were somehow very aware of it. Our friends' families bought new cars and had new carpeting installed in their houses. Sometimes they flew places on airplanes and stayed in hotels. They even ate in restaurants regularly!
In my house, my mom took a class so she could learn to reupholster the sofa and easy chair. My dad bought a Volkswagon Rabbit, because it was so gas efficient, then put well over 200,000 miles on it, driving it across the country, the four of us sleeping in a tent and eating spaghetti and tuna sandwiches along the way.
From my uninformed perspective, we were on the poor side of middle class. But no expenses were spared when it came to having the best tickets to the best concerts and shows we could see.
As a kid, I had no idea how much those symphony concerts and plays cost my parents—those performances I generally slept through the second half of. I didn't recognize that my parents were making very deliberate choices, saving large sums of money in certain areas so they could allocate it for others (including our college education).
Now I get it, of course. And I'm glad for it (of course).
Because now that I'm a parent, I am very aware of what made my childhood memorable and special—experiences, not things. The ability to see San Francisco, or a Broadway musical, not the memory of the old car that got us there or the snacks my mom packed in her purse so we wouldn't have to buy any.
Now that I think of it, we even went to the Shakespeare Festival in Stratford, Ontario a couple of times when I was young. I loved it.
I probably don't have to tell you that I'm going to buy the Shakespeare Festival Tickets now. Happily. (But if you know my kids, shhhh! It's going to be a surprise!)

Similar Posts: