Sunday, June 2—Urbana, Indianapolis and Denver
4:12 pm: on our way to the airport. first time I've felt somewhat relaxed all day. or maybe in several days.
8:29 pm apparently some paint is peeling on the plane's nose. sunburn maybe? all I know is the little girl behind me better stop kicking my seat.
9:00 pm we've been sitting on this not-flying plane for 1.5 hrs so far. that's only half as long as I sat on the tarmac trying to get to NY last Aug
Monday, June 22—Denver and Portland
8:14 am this freaking hotel is a full 30 min from the airport. but Frontier did pay & the hotel was nice. (see? I can be silver lining girl)
12:47 pm in Portland, about to see my bro who is here to pick us up. so grateful today has *worked*.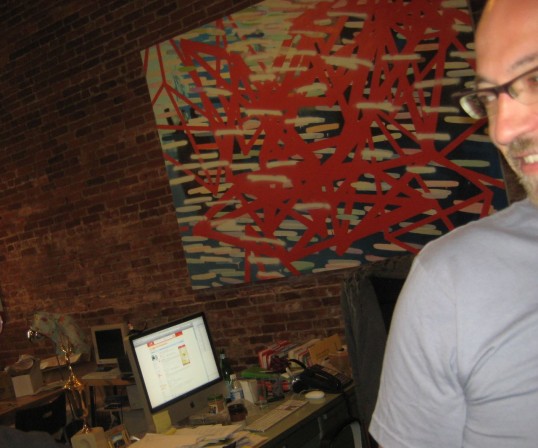 2:23 pm yummy sandwiches at bro's house, now heading downtown to meet co-authors for coffee then dinner, then the reading! excited & nervous.
9:52 pm reading a success! good crowd, including @heathra. now at the Slow Bar having a bison grass martini & a slow burger.
Tuesday, June 23—Portland
9:49 am my bro's dog Henry is so similar to Maeve. it simultaneously makes me miss her and feel like we brought her along.
11:51 am happy to have some computer time & great coffee at the Fresh Pot in Portland. also happy to not be in Urbana, where it's currently 90 deg.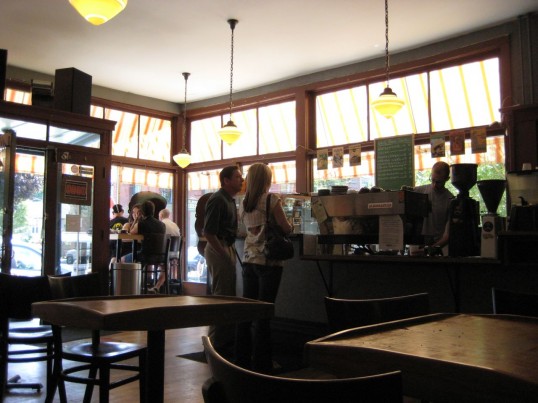 7:39 pm we returned to Powell's, this time so I could really browse. we bought an ridiculous number of books for $100. LOVE Powell's.
7:51 pm wondering how long we should be willing to wait in line for a table at Pok Pok. it smells heavenly.
Wednesday, June 24—Portland
9:44 am getting ready to head to the coast for the day. when I'm on vacation, I feel bad about neglecting all my twitter & blog friends. sorry!
1:26 pm we were just blown down Cannon Beach. a magnificent and miserable experience all at once.
2:48 pm yummy burritos in Manzanita. the rain I could do without.
7:51 pm feeling absolutely sick about not being able to change our flight to get back in time for S's performance. Frontier sucks.
7:54 pm on a happier note, the sun is shining back in Portland and we're on our way to see @heathra's new house!
9:19 pm we are just now deciding what to cook for dinner. trying not to think about the fact that it's 11 pm back home.
Thursday, June 25—Portland
9:20 am it's our last full day of vacation. why is it so hard for me to just accept what is and fully enjoy myself? gah.
10:10 am today's coffee date in Portland is with my childhood BFF's close friend from when SHE lived in Portland. it's very cool & bizarre, eh?
1:53 pm just had yet another fabulous conversation w someone who was a complete stranger yesterday. the world is small and so full of good people.
1:55 pm also just talked to S after her 1st of 3 performances. her dad said she was fantastic. she says she wasn't nervous. I say I miss her so.
2:37 pm heading downtown to meet my bro for a late lunch. still can't believe it's sweater weather here. loving it.
~3:30 pm I will forever associate Portland's food cart culture w Michael Jackson. I was waiting for my curry when I found out.
~7:15 pm great conversation over happy hour at Urban Farmer with my very fave aunt. now to Por Que No? for tacos with a fun cousin & her boyfriend.
~10:00 pm now karaoke w @bill_of_lading and @heathra. what to sing? Journey?
~11:15 pm B just sang a very dramatic rendition of Major Tom, followed by J singing Mrs Robinson. so fun.
Friday, June 26—Portland
~2:00 am man, my sleeping schedule is going to be so messed up when we get home (where, incidentally, it's almost 4 am right now).
~9:45 am OK, the food in Portland is officially off the hook. now at Moxie Rx, a neighborhood breakfast "cart." I'm nearly speechless w yum.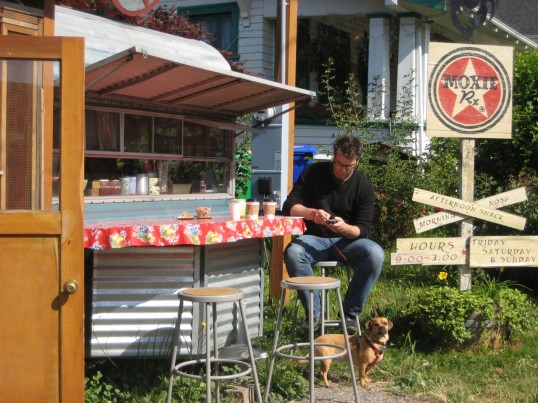 ~10:30 am it's time to pack up for the airport. I'm having that bittersweet "sorta-ready-to-go-home, sorta-not" feeling.
~12:15 pm all packed. as usual, I only wore half of what I brought. didn't touch my skirts. a wool sweater & closed toe shoes would have been nice.
~12:30 pm taking a lot out of Portland that didn't come in w us: a dozen books, dog toys, t-shirts, Stumptown coffee beans, dog hair, sand.
~1:00 pm I'm glad I have such a fabulous brother, but it would be much easier to say goodbye if he was really lame.
Similar Posts: