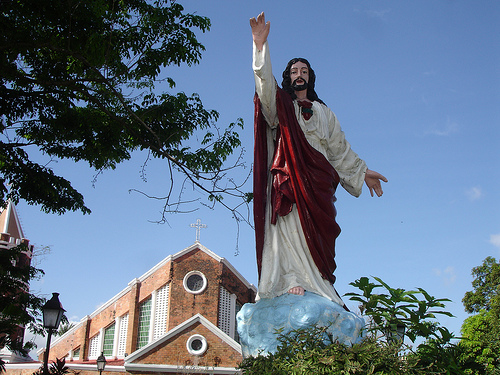 Every couple of months I can count on something to stress me out in the social media realm. For the past couple of weeks, it's been the WeFollow Twitter directory.
To be included in the directory, all you have to do is sum up yourself in three words. Then you'll be listed under those three categories, which will help people with similar interests find you on Twitter. It's pretty straightforward. Plus, everyone's doing it. (Cue: pubescent-style identity crisis.)
The first time I heard about WeFollow and clicked the link, I should have just added myself to the directory without a second thought, going with the first three terms that came to me: "writer," "freelance," and "mom."
But I didn't. I typed, deleted, typed again, deleted again, and generally over-thought it. Should I replace "writer" with "blogger?" Did one sound too pompous, and the other too common? Also, lot's of people are moms, and I'm not a mommy blogger. Was I being mundane or maybe misleading?
The issue I struggled with most, though, was that I wanted to include a term that expresses my faith. Yes, I could have kept it straightforward, and just put "writer," "freelance," and "Christian." Done.
I couldn't do it, though. "Christian" doesn't seem like the right term to use, even though, technically, it is. It's a trigger that could cause a whole lot of almost everyone to instantly write me off.
It's a problem from the other direction, too. Probably 90 percent of the people out there who are actually looking for Christians to follow on Twitter are bound to be sorely disappointed by me. I might even start getting hate-tweets. (It almost got to that point with one Obama-hating Christian who used to follow me. She flew off the handle when I referred to Dick Cheney as an asshole in a tweet. Clearly I wasn't the kind of Christian she wanted me to be.)
In search of a new terminology
I started  brainstorming other options. "Spiritual" could work, but it has the potential of sounding like I own lots of crystals and possibly have some marijuana to help me get to That Special Place.
I like the term "emergent," because many of the ideas being developed by the "emerging church" resonate with me. But it feels a bit like a party I stumbled upon—everyone's nice and welcoming, but I feel kind of awkward because I know I don't really belong. I don't go to the conferences, and I only read some of the right books. I worry that I'll be called out as a poser if I use "emergent."
So what are the other possibilities? Faith? Believer? Missional? And then of course there are all of the individual denominations, none of which I associate myself with any more. I must have gone to WeFollow to register myself half a dozen times, each time getting caught up on that one, elusive term.
Labels are both dangerous and necessary, and the English language can be very limiting—particularly when you have to boil an idea all down to 140 characters, like on Twitter, or into a word, like on WeFollow.
With a bit more space and leeway, I've been slowly figuring out how to refer to my faith on my blog. My bio gets at the cheek dichotomy of who I am. I use phrases like "Christians Against Christians," and "Not All Christians Are Like That." I really want to bust the stereotypes, but when it comes to terminology I feel limited.
Post-evangelicals, recovering Pharisees, and unlikely disciples
Naturally, through this minor crisis, I've been really curious to see how other Christians try to sum up what kind of Christian they are. Here are some examples I've found on Twitter and on people's blogs. Add your thoughts, ideas and findings to the list. And if you think I'm over-thinking this whole thing, and should just use the label "Christian," by all means, please tell me!
- Michael Spencer, of InternetMonk.com, uses this for his bio when he writes for publications: "a postevangelical reformation Christian in search of a Jesus-shaped spirituality."
- Kary Oberbrunner, author of the book "The Fine Line" uses the handle "Recovering Pharisee" on Twitter and his blog. Noel Heikkinen, a guy a went to high school with, who's a pastor now, calls himself a "recovering hypocrit" on his website.
- Gavin Richardson, in a guest post at Life Without Pants, describes himself this way: "I serve a creative God & live life with my great wife Erin, two farting dogs Coe & Crimson, and anticipating 'pellet', our first child in the fall." The tagline for his blog, Hit the Back Button to Move Forward, is "My life being a little monastic and a lot of geek."
- Kevin Roose authored a book with the great title "The Unlikely Disciple."
- Matthew Turner's blog name and Twitter handle, JesusNeedsNewPR, is genius, in my opinion. He's also the author of the book "Churched: One Kid's Journey Toward God Despite A Holy Mess."
And some bios people wrote for Twitter:
- @erinwarde: "delightfully irreverent feminist episcopalian aspirant from the south, with a passion for social justice & loving others."
- @jbonewald: "presby pastor, blogger, dabbler at photography, infrequent biker, simply trying not to be one of 'those' christians."
- @jimpalmer: "Nobody, Neighbor, Author, Triathlete, Friend of All People" (his blog is called Divine Nobodies: Shedding religion to find God)
- @angelaharms: Writer, editor, designer, family mama. Excited by the light of unconditional love and infinite grace.
Similar Posts: