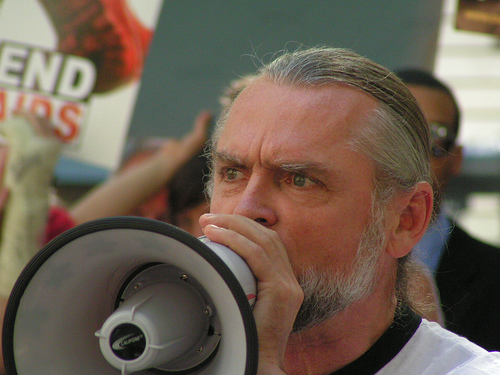 I love the stories people share on my blog. Some of them are heartbreaking, though, and burrow their way into me. Here's one that a reader named Keren left on April 9, in response to my post Go ahead: Ask me about my divorce:
I left my husband of 4 and a half years after putting up with physical and emotional abuse (which started with him punching me on our honeymoon) and then deciding that I'd rather kill myself than live with him any longer. As a very staunch fundamentalist Christian (at the time) it was the very hardest decision I have ever made in my life. I just knew that I didn't want to have children with him and make their lives hell too.
My family were utterly devastated, and my parents and several siblings didn't speak to me for two years. That all happened five years ago, and I'm slowly patching things up with my family, but it's taking a long time. I'm no longer a christian – the idea of worshipping the God that my parents worship is repugnant to me. Their religion meant that they turned their backs on me at a time when I desperately needed their love and support, and I don't know that I'll ever completely get over that.
In my response to Keren, I told her this: "As a Christian, perhaps nothing makes me more angry than Christians using their religion as an excuse to treat others unjustly, void of the love or compassion that Jesus modeled every day. When those Christians are your family and friends, it's horrific."
Changing how we listen instead of how they speak
I can't stop thinking about this story. I know there are scores of others who have had similar experiences with Christians, and have reacted, understandably, by rejecting their faith and even God. Sometimes it feels like an epidemic that's out of control.
Sadly, I don't think I can do much to change the perspectives of judgmental Christians. Partly because people are going to be sinful, plain and simple, and partly because I think I've been given a different mission: to help shift the perspective of those being judged and hurt.
I was one of those judged people who almost walked away from God and the church. Here are the two things I think were at the root of my confusion, and here's what I've gradually learned (and am still learning).
Only God can truly speak for God
The first is that I was giving God's people too much power and authority to speak for God. We so desperately want to understand God, and hear him, that we're often quick to personify him—to imagine him embodied in a certain pastor or parent or Christian author.
It's easy to reach a point where we've allowed a certain, outspoken and bold group of people to become the CEO and executive board of God's corporation. Where does that leave God? He becomes sort of a mascot, or a brand for the corporation—he's the face of the corporation, and he represents the company's mission statement, but he doesn't really have authority.
I completely understand where Keren is (although I want to be clear that in my case, it wasn't my family who turned their backs on me, and I wasn't in an abusive marriage). But Keren is allowing messed up humans to be God's spokespeople. As much as I'm tempted to devote my life to putting all of these loud, false-speaking people in their place, I think sometimes it's even more important to adjust how we listen than to change how they speak.
There is no such thing as a "perfect person" mold
The second issue I needed to work through was my understanding of what God wants from me, and who he wants me to be. This is closely related to the first issue, and the tendency we have to want to personify God, and to understand him in terms of how we understand people. We think he wants us to be who our parents want us to be, or some shiny, perfect, fake pastor somewhere.
I spent many, many years thinking, perhaps subconsciously, that God wanted me to be a certain type of person. I thought I was supposed to toil away, year after year, to become this very specific ideal person. I also sort of thought that God had the same general "ideal person" mold in mind for all of us. We were supposed to squeeze ourselves into it, as best we could, even if that meant chopping ourselves up and leaving out certain parts of who we were.
When I was about to walk away from my faith, I knew two things very clearly: One, there was no way I was able to be THAT person, no matter how hard I tried; and two, I didn't even want to try, because I was pretty sure I would be miserable being THAT person (if it was even possible to get close).
I now think this view is absolutely wrong. That person you are? Your weaknesses and desires and quirks and all the things you get excited about? I believe those things are all there only because God put them there. And he's not trying to get you to chop off all that's perceived to be "bad." He might want to soften and redirect it, redeem it and use it for good, but I don't think he's a God of amputations.
Getting to a place where I understood and really believed this was tricky. There isn't one clear path to that freeing place, and I'm starting to think you never fully arrive.
But I do believe that when you start to embrace who you really are, God will send you signs of affirmation. For me, those signs came mostly in the form of Jason—someone who loved and miraculously fit the very person I am (see Love in unexpected places). It was God's way of saying "I'm not disappointed in you. See? I know you and love you."

Similar Posts: