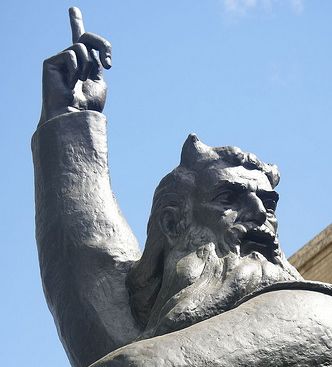 Moses statue at Notre Dame, photo by Paul J. Everett
I woke up this morning to more Morning Edition news about the Notre Dame-Obama debacle. As this subhead so plainly puts it, "Anti-Abortion Groups Decry Obama's Graduation Speech, Majority of Catholic Voters Support President."
As the issue has escalated the past couple of weeks, angry opponents started a website, NotreDameScandal.com, with a petition that reads "Notre Dame has chosen prestige over principles, popularity over morality." ("Help Stop the Scandal at Our Lady's University!" the website cries. "Sheesh, can anyone say "overly-dramatic?" I think.)
"Ugh. This whole issue just makes me cringe," I said to Jason when the news report had finished. "How closed-minded and stuck in the past do Catholics want to be? First the Pope telling Africa that condoms won't help slow the spread of HIV, now this—our nation's president isn't welcome at their university because he didn't run on a Pro-Life platform. Can't any university just be pleased to have the President of the United States visit?"
Almost as soon as I said it, I spotted my own hypocritical and inconsistent self, plain and clear. Man, I hate it when that happens.
My own alma mater's invitation to a different president
On April 21, 2005, I was sitting in this very cafe when a friend—a fellow Calvin College graduate who happened to live in this Central Illinois town at the time—arrived at my table and said he had to show me something. He sat down, slid my laptop in front of him, typed something into Google, then showed me the page me brought up. It was the Calvin College homepage, with a big splash that read something like this: "President George Bush to speak at Calvin College commencement." (Here's a lame press release on the subject.)
As I looked at my computer screen with those words on it, I experienced a visceral, physiological response. My heart rate picked up, and I felt hot and dizzy. Moreover, I was speechless.
We had just passed the two-year mark in the war in Iraq, and widespread national anger over George Bush was growing. January 26, 2005, was the deadliest day for the U.S. since the war had started. The Rassmusen Reports, on June 23, 2005, said 49 percent of Americans said President Bush is more responsible for starting the war with Iraq than Saddam Hussein. Only 44 percent believed Hussein was more responsible.
I was pissed. No, actually, there really aren't words to describe how I felt about George Bush at the time. And then my Christian College alma mater—where I had a very good educational experience, by the way—seemed pleased as punch that the President was going to grace them all with his presence.
I was angry on principle, because war is something that goes against all of my Christian beliefs. I was also embarrassed. It was a Christians Against Christians moment. By inviting Bush, Calvin College was extending the stereotypes that I, and many Christians I know, work against every day.
As it turned out, many people were angry. They started lots of conversations, and mobilized people into action. More than 800 Calvin faculty, students and alumni signed a letter that ran in the Grand Rapids Press, saying, in part, "Your deeds, Mr. President—neglecting the needy to coddle the rich, desecrating the environment and misleading the country into war—do not exemplify the faith we live by." In the end, the whole visit to Calvin College didn't go as swimingly as Karl Rove expected.
The power of pissed off people
Of course, the dialogue and action has been stirred up at Notre Dame and among Catholics, too. Hundreds of Notre Dame students have mobilized in support of President Obama.
And maybe that's all that really matters, in all of this. Not that everyone's happy all the time with everyone else's decisions and beliefs, but that we're willing to get worked up about something, on either side of the debate. We're willing to react strongly and publicly to something we believe in strongly, whether it be a pro-life or anti-war stance.
In the process, I hope we can learn to respect opinions that are different from ours. I know I need to work on that. I also hope, while we're at it, we can put our close-minded stereotypes about certain groups of people to rest, and just be thankful we live in a world where everyone doesn't agree with us.

Similar Posts: