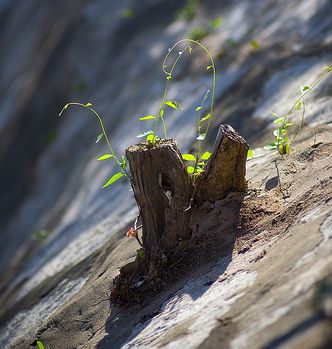 If you've spent much time at Halfway to Normal, then you know I write the occasional "Christians Against Christians" post. (If you want to see them, click on Christians Against Christians in the tag cloud.)
I'll admit, the phrase is a gimmick of sorts. My primary goal is to inspire a double-take, putting together a collection of words that make people go "wait, whaaat?" I want to make people stop and wonder, while hopefully communicating "Not All Christians Are Like That," (whatever "that" is, in your mind).
What got me thinking about all of this again was a study that came out on Monday, about the sharp decline of people who claim some sort of religion. I'm not a fan of USA Today, but this is the best article I've seen on the study yet: "Most Religious Groups in USA Have Lost Ground, Study Says." (You can see the study here: the American Religious Identification Survey.)
"The percentage of people who call themselves in some way Christian has dropped more than 11% in a generation," the USA Today article says. "So many Americans claim no religion at all (15%, up from 8% in 1990), that this category now outranks every other major U.S. religious group except Catholics and Baptists."
Barry Kosmin, the survey's co-author, came to this conclusion: "religion has become more like a fashion statement, not a deep personal commitment for many."
OUCH!
But I'm SO not surprised to learn this. Or to hear that ex-Catholic Dylan Rossi, 21, says, "If religion comes up, everyone at the table will start mocking it. I don't know anyone religious and hardly anyone 'spiritual.' "
My response: a slice of cringe, followed by a bigger portion of hope
One part of me—the very world-focused, human-centered part of me—finds this really sad and embarrassing. It's like being a fan of the worst team in football. (Can someone tell me which team that would be?) Except every time you turn on the news, instead of hearing the crushing score of last night's game and the commentators joking about it, we hear news of so-called believers being judgmental, and protesting same sex marriage, and carrying signs around that say "God hates the world." We hear Dylan Rossi and his friends mocking believers, and wondering how anyone with any sense can actually believe.
But there's another part of me—the part that's tuned into my soul and doesn't care so much what people think. That part hears a tiny, urgent inner whisper: "It is time." Jason woke up this past Sunday morning with those three words persistently needling him, and he isn't one who often claims to hear the word of God so distinctly.
It is time.
It's time to put to rest our tired old ways of doing church and of relating to God. It's time to cut down that dead tree that isn't bearing any fruit. It's time to let the old die off and make way for something new.
This is what God is all about, after all: creating something new. And usually, before that can happen, we have to go through a painful pruning process, to make room for the newness. That was the case for me, throughout the several years surrounding my divorce. I can assure you, it isn't pleasant. But it was necessary. That's why, when Jason and I got married almost two years ago, this verse was on our wedding invitations:
"Therefore, if anyone is in Christ, he is a new creation; the old has gone, the new has come!"
2 Corinthians 5:17
It's time to open ourselves up to what's new, and to look past the dusty traditions, the old structures of belief, and the maddening headlines, in search of good fruit.
Likewise every good tree bears good fruit, but a bad tree bears bad fruit. A good tree cannot bear bad fruit, and a bad tree cannot bear good fruit. Every tree that does not bear good fruit is cut down and thrown into the fire. Thus, by their fruit you will recognize them. Matthew 7:17-20
Similar Posts: