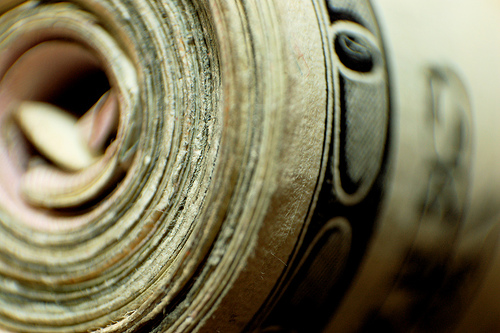 I've always been generally aware of and saddened by the presence of greed in our world. The history books are filled with stories about people who have cheated and stolen and hurt others to get what they think will make them happy.
Lately, though, it seems like greed is everywhere. It's around every corner, sitting right out in the open. It's stacked in complex layers upon layers of "I want," and "I must have." In the news, greed is at the heart of half the headlines, and in the other half, you can surely find it embedded somewhere—at least in every negative, heartbreaking story.
There are obvious examples, like Bernie Madoff's Ponzi scheme, perhaps the greatest financial scandal and example of greed in our time. And we can't possibly overlook the recent report that possibly more than $200 million in bonuses are being given to the very AIG executives that got the insurance company in trouble in the first place, requiring a federal bailout of $182.5 billion.
But there are other, less obvious stories, too. Like the Pennsylvania judges who allegedly took $2.6 million in exchange for unfairly sentencing juveniles to privately run youth detention centers. And we also found out that New York Yankee star A-Rod, the highest-paid player in baseball, has been working his magic with some help from steroids.
The examples of greed in our world just don't run out. And I've realized that greed doesn't sadden me any more, like it used to. It makes me flat-out angry. Enraged is probably a better word for how I feel.
Getting more comfortable with righteous anger
I wrote a post recently about my general dislike for the Old Testament (Learning from the parts I don't like). One of my biggest problems with the Old Testament has been "…the long line of cruel kings, the blood and revenge, the famines and plagues…and the wrathful anger of God." Huh. That sounds frighteningly familiar.
It's a good thing I'm slowly getting into the Old Testament a bit more, because one of our pastors is teaching a series on Isaiah 49, and in our small group we're studying Habakkuk. Last week we talked about chapter 2—ancient scenarios that sidle up too neatly with our current contours. Check this out (Habakkuk 2:9):
Woe to him who builds his realm by unjust gain
to set his nest on high, to escape the clutches of ruin!
You have plotted the ruin of many peoples,
shaming your own house and forfeiting your life.
Sounds sort of like it was in today's New York Times, doesn't it? OK, I admit, the reporter would have to be a very old, strange dude with a penchant for drama, but still. Eerie. (There are several similar verses in a row, if you want to read the whole chapter.)
There's enough blame for all of us
Overall, there's a lot I don't know. I'm still struggling to wrap my mind around Habakkuk 2 and how it ultimately relates. If I figure it out, I'll fill you in.
I also don't know what to do about the greed that's rampant, and the people who are hurting because of it. I'm not sure what to do with my anger, either. I believe there's such a thing as righteous anger, and that it can be fuel for extending justice and mercy to those who have been wronged.
But I also know I'm not innocent of this greed. No one is.
And while I want desperately to point the finger, I heard a February 27 NPR story that put things into perspective. David Beim, a Columbia Business School professor, explained a chart that shows the history of consumer debt in relation to the national GDP. Usually, consumer debt represents 50 percent of the GDP. Between 2000 and 2008, it has risen to 100 percent.
"That chart is the most striking piece of evidence that I have that what is happening to us is something that goes way beyond toxic assets in banks. It's something that has little to do with the mechanics of mortgage securitization, or ethics on Wall Street, or anything else," Beim says. "It says: The problem is us. The problem is not the banks, greedy though they may be, overpaid though they may be. The problem is us."
We have overborrowed, Beim says: "We've been living very high on the hog. Our living standard has been rising dramatically in the last 25 years. And we have been borrowing much of the money to make that prosperity happen."
The line runs through us
I'm not saying that Madoff shouldn't be in jail, or that the AIG executives should get their bonuses. I'm still incredibly angry about those things, and feel immense compassion for everyone who's suffering because of that greed.
But there's a fine line between righteous anger and self-righteous anger. It's time for me to examine my own greed—for all of us to claim some responsibility for this mess we're in, and to think about how we can change how we live.
We can't draw a line in the sand and put the bad guys on one side and the good guys on the other. As one of the pastors at my church once said, the line doesn't run between us, it runs through us.

Similar Posts: