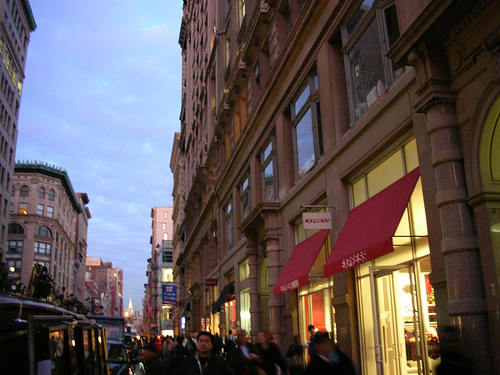 I've been in New York for the past four days. I'm at once overly stimulated and utterly exhausted.
Is there anything else in life that leaves you feeling quite that way—every fiber of your being is awake and hyper-alert, but also constantly on the verge of collapse? Parenting young children is the closest thing I can think of. If you've got any other analogies, I'd love to hear them.
I end up visiting New York a couple of times a year. I have some clients here, plus a long-time friend, Carmen (one of my favorite people) lives in Brooklyn. The bonus for this trip was finally meeting Karen, one of my Twitter friends (which I wrote about in A modern day penpal reunion).
Of course I love New York. The invigorating aspects of being here are obvious. I love the food and the people-watching—the intense variety and surprise recalibrate my expectations, stretching their boundaries. I love never knowing what I'm going to see or hear next, or what unexpected challenge will be thrown in my path.
If I have the right tools, I even love deciding what I want to do, where I want to go, and how to get myself there. It makes me feel adventurous and capable (and wondering how I ever survived before having Google maps on my phone).
But nothing beats me down quite like this city. My apologies to anyone who lives or has lived in New York, and has a different take on it. I'm not trying to start a debate, I'm just gathering up my own reactions, as an occasional visitor with her very own limited capacities for chaos.
At the end of each long day, as we crashed at our hotel, I tried to figure out why exactly I felt so pummeled. I was exhilarated, right? Being in the city was exciting. I ate well and used my mind, I walked and found moments to sit and rest. I should feel more alive than ever, not beat up.
I finally realized what I feel: a complete emotional-physical-mental exhaustion. At home, I might be physically exhausted one day, or mentally worn out, or emotionally spent. In New York, though, all of my resources seem to give out at once.
I grow tired of everyone around me acting rushed and impatient, and refusing to smile. I feel constantly disoriented. Every time I emerge from a subway station, I feel stranded, without a clue as to which way is north and which is south. I don't know where to go to get wireless, or where my next bathroom break might be. I can't miss a beat, or be absent-minded for a second.
Plus, there's a sensory exhaustion that gets layered in, gradually building on everything else. Just finding pockets of silence, stillness and peace for an impromptu retreat and refueling takes effort. When I do find a place to settle my self and all my stuff—a table at a café or a conference room at a client's office—I can't settle my mind. I feel scattered and restless, like I'm missing something exciting or important. I planned to get a fair amount of writing done while in New York this week, but I just couldn't make it happen.
Experiencing the city is always worth it, though. It's like a raucous party that's not to be missed, no matter how terrible it makes you feel for the next few days.
Ooh, maybe that's a good analogy for New York! It's like a Jager-bomb (or any more sophisticated drink that's caffeinated and alcholic all at once—is there such a thing?). In that case, my first order of business, back in my small Midwestern town, will be coming down off this buzz. Then I can go about properly sleeping off my big city hangover.

Similar Posts: