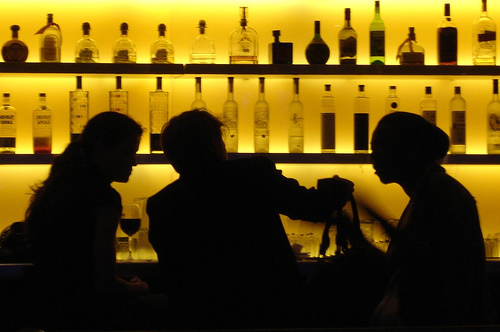 Last night, I finally got to meet one of my good friends for the first time.
That's the kind of statement that would really throw my parents and grandparents for a loop, but anyone who spends a fair amount of time in the social media realm knows exactly what I'm talking about: I finally got to meet someone in real life (IRL) that I've been conversing and sharing with on Twitter and Facebook for almost a year.
Social media demands new friendship categories we didn't know we needed
I could write endless posts about social media and the many ways it affects community and friendship—both conceptually and in terms of the day-to-day logistics surrounding how we interact. It's fascinating. Here's part of what I wrote on the topic last month, in the post Becoming (slightly) more than a face in the crowd:
I find that I'm becoming more open-minded about creating bonds of friendship with people I've never met in person. At the same time, though, I sense how old-fashioned I still am about friendship, and how I'm grasping for ways to "bring it home" with people I'm getting to know on line. I want to pick up the phone or get in my car and meet you halfway. I feel compelled to put a stamp on a card and send it to you snail mail, or do anything that makes me feel like we're actually connected, and I know you a bit better (or maybe in a way that seems more "legitimate?").
Think about it. The people I follow on Twitter are the ones who break into long, boring stretches of afternoon and make me laugh unexpectedly. They're the people who spark thoughts and ideas, and keep me up to date on the latest in news and culture. They're generous with their advice, and sympathetic when I need to whine.
But of the 230 people I follow on Twitter, I only actually know about 15 of them, IRL. There's another handful that I feel like I know, because they are good friends with people I know well. That leaves more than 200 essential strangers I'm regularly sharing my thoughts with and being influenced by.
Meeting @daisy17 (aka Karen IRL)
Before I met Karen last night, she fell into the "one degree of separation" category—at least if we're talking about "real life" worlds. Karen lives in New York where she is good friends with my longtime friend Carmen. (Carmen and I became fast friends back in 1994, when we both lived in Grand Rapids, Michigan, and worked in the same office as writer/editor types for sister publications.)
Karen is one of those people on Twitter that I connected with almost immediately, with warmth and ease. For nearly a year now, we've been interacting several times a week, chatting about politics, music, food and travel. I know what she likes to watch on TV, and what she cooks on Saturday, and how much she loves her cats, but I had never seen her, in person.
Then, last night, I walked into a East Village bar, recognized Karen immediately, walked up to her and gave her a big hug. We had so much to talk about, wandering seamlessly from one topic to another, following up on things we already know about each other as if our happy hour get-together was a weekly event. Eventually, Carmen joined us. It was as if we've always been a trio of pals. Later, we migrated to dinner and Jason met us, joining together three different aspects of my life around a table.
Of course, we had to tweet at least part of the evening. It just wouldn't seem right not to (even though my brother, @bill_of_lading, enjoyed giving us a hard time about it—via tweet, of course).
Karen tweeted "off to meet the lovely @kt_writes. feels like a blind date!" I wrote: "at Death & Co in the E Village having drinks w old friend @scheidel and old twitter friend (but new IRL) @daisy17. so fun." 
And today, I followed up: "I had *such* a fun time hanging out with you last night. you feel like an old friend." Karen's response: "oh, I did too, it was like we picked up where we left off, even though we'd never actually met before. must do it again soon!"

Similar Posts: