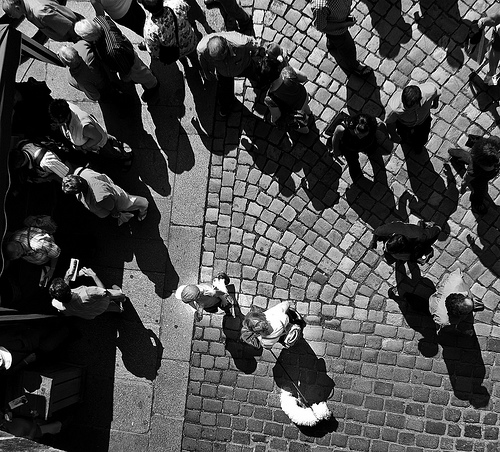 Most of you are probably all too familiar with the "25 random things" meme that's been making the rounds on Facebook (again and again). Even if it's gotten a bit out of control, I have to admit, I've enjoyed learning things I didn't know about my friends.
Now I want to learn some random things about you, the readers of Halfway to Normal. I'm going to see if we can turn this meme on its head.

Lately, I've been thinking and writing a lot about how social media is changing our understanding of community. In a high-stress moment of fear this week, when my daughter was injured, I reached out to my Twitter community—mostly people I've never met in person. Knowing they were there, so to speak, was comforting.
I find that I'm becoming more open-minded about creating bonds of friendship with people I've never met in person. At the same time, though, I sense how old-fashioned I still am about friendship, and how I'm grasping for ways to "bring it home" with people I'm getting to know on line. I want to pick up the phone or get in my car and meet you halfway. I feel compelled to put a stamp on a card and send it to you snail mail, or do anything that makes me feel like we're actually connected, and I know you a bit better (or maybe in a way that seems more "legitimate?").
Adjusting our privacy/transparency controls in social media
Here on my blog, it's easy for me to feel a closeness with many of you. We keep up a lively, interesting dialogue, sharing stories and perspectives. In the comment he left on my post "What we learn from moments of fear," JebDickerson said this:
There's an interesting intersection occurring at this moment in time, and I believe it's unlike anything that has preceded it. Our ability to connect is unprecedented, at least in terms of breadth…though, certainly in my experience, depth as well. P'raps it's a bit pathetic, but I've had more meaningful conversations with you, and others around the web, than I have in years with people I know and talk with in person.
At the same time, it's so surreal to be pouring out my heart and mind here on a regular basis to so many people I really don't know at all. More than three-quarters of my readers are just statistics on Google Analytics—I know you're out there, but that's about all.
Another reader, Betty Duffy, said it perfectly in a comment she left on my February 12 post about social media, "How fast can you really add?" Here's an excerpt:
The thing I find interesting about blogging, is that it's sort of like sending a personal letter out to whomever wants to read it. Personal blogs can seem very intimate even if they're selective in what they present. As a consequence, I can read your blog, feel like I know you, yet if I choose not to comment or make my presence here known, you have no idea I exist. It's so odd.
Step to the plate, people! (pretty please)
I'm not trying to call anyone out, or make you feel like you're not allowed to lurk. If you like what you're reading at Halfway to Normal, and you really need to keep on lurking, for whatever reason, that's cool.
But unless you have a good reason not to, speak up! You don't have to say anything profound or witty about what you've read here. Just tell me something random, whether it's big or little—you come from a family of 9 kids, or you're a cancer survivor, or your passion is cake decorating, or you want to travel to Figi before you die.
I'm just really interested in knowing something about who's out there. I want a clearer, more comprehensive picture of this community. I realize we won't automatically all be best friends, just because a handful of you tell me one thing about yourself. But it's something. It's a start.
(Oh—one more "getting to know you" thing. If you're wondering why some people who comment get pictures of themselves, and you don't, it's because they've signed up at Gravatar for a globally-recognized avatar. Check it out! I'd love to see your face, or at least something that visually represents you.)
If you have a blog and like this idea, I hope you'll follow suit and ask your readers to tell you something about them. We can start a whole movement of bloggers getting to know their audience, rather than the audience always hearing about the bloggers.

Similar Posts: