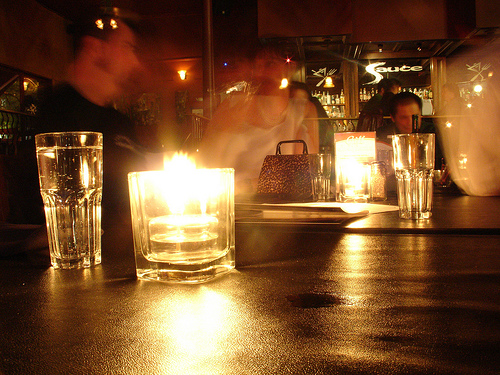 When it comes to friendships, it's been sort of a rough 12 months for Jason and me.
Well, that's kind of misleading. We have plenty of wonderful people in our lives to call up when we need help with a project, or want a couple of people to play cards with or share a meal with. What we haven't had for the past year are "best friends"—those favorite-any time-anywhere-go-to-without-thinking people that you have in your lives every now and again.
I realize writing about best friends might sound very "high school." But the few times in my life that I've had this kind of friend living in the same town with me—I think exactly four times since college—I've been really happy. As human beings, we're all oriented to needing friends. But maybe some people are more geared to intense friendships. And maybe I'm one of those people.
In all four cases, these friendships involved my husband and I loving both halves of another couple. In all cases, we were happy hanging out as two-guy- and two-girl-pairs, or all together. Each of those friendships involved eating dinner together at least once a week, often spontaneously, and calling each other first whenever we had a babysitter and a reason to go out—a birthday to celebrate, a show to go see, or some other adventure.
But that's enough over-romanticizing about best-friendship. Like I mentioned, Jason and I don't have that right now, and I've been feeling a certain, vague sadness about it. The feeling sort of comes and goes, but it's there.
Heading in a new direction rather than seeking a replacement
Here's something I've observed about human nature: When we have something we see as good, and then somehow we lose it, our first impulse is to get a replacement. Pronto. Do you have that impulse, too? I haven't exactly been pursuing best friends, because I know it doesn't work that way, but I have probably had some low-range friendship radar up.
I've also been trying to be less intentional. (If you missed what that's all about, I wrote about in the posts Striving to be less intentional in 2009, The less intentional party,  and Retracing my steps to the original idea.) And this morning, I found myself drawing a line from this "friend issue" to my "less intentional" concept.
Jason and I were driving downtown, talking about our plans for the weekend, and this thought occurred to me: Not having best friends allows us to be more open with our time, which gives us more opportunities to invite different people over, and add depth to several of the more nominal friendships. We don't have those automatic, go-to friends that we call every time we feel like hanging out with people, so we're forced to be more open and creative in how we think about our social life.
I don't want to mislead you into thinking I'm a perennial glass-half-full kind of girl—the kind who's always finding silver linings and taking lemons and making lemonade. But I do think that trying to be less intentional—more open—these past several weeks has helped me to see more positive potential in things that look negative on the surface.
And that feels good. So I think I'm going to run with it for now.

Similar Posts: