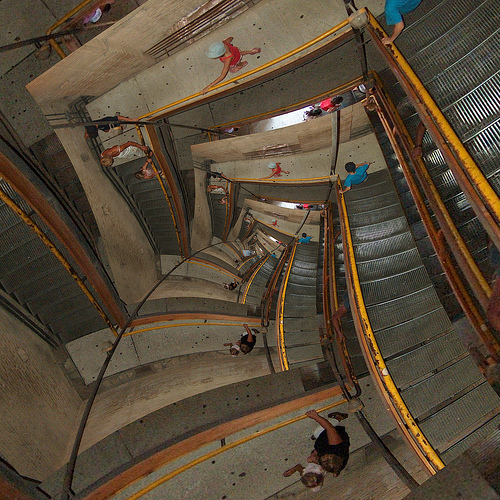 Today, as I was thinking about my blog and what to write about next, I had an idea, which I then "tweeted:"
thinking about how to take my new year's post about being less intentional & make it into a series, reporting on my attempts & successes.
Jason, who read my tweet at work, immediately sent me a text: That's an awesome idea baby! Clearly I never have to wonder why I married this man. But that's another story.
I also got this response, from someone on Twitter:
Wait, you are going to be intentional about not being intentional, and then you are going to chart your progress?
Sigh. Put that way, it does sound pretty funny.
The beauty of unintentional blogging
Being questioned is good. It forces me to reverse engineer my ideas to see how sound they are, and to check the clarity of my communication. Keeping a regular blog is intense, and I don't even post daily. I often find myself making sudden, big, intuitive leaps of thought, that are immediately formulated into sentences and laid out there for all to inspect.
It happens to be one of the things I really like about blogging—it's much more organic than article or book writing. There's something about writing in WordPress, with that "Publish" button off to the side, that changes the timing of how I think and write, and how things happen. When I write essays or chapters in Microsoft Word, my expectations are higher. I think more in outlines and am likely to enforce "sleeping on" anything before it's sent out to the client or editor.
The winding path in my brain
This more organic approach to ideas and writing falls right in line with my New Year's Resolution to be less intentional, which is the focus of my previous two posts. When I trace the line from how I came to my original idea, interacted with others thoughts along the way, and then wandered my way to where I am now, it looks like this:
- I heard a teaching at church including stories about people who followed their instincts, did things that didn't make "sense," listened and paid attention.
- I reflected on how much I rely on planning, reason and logic in everything I do, and how much stress it causes, particularly in relation to the payoff. I thought: What a good resolution for me for 2009!
- The next day, I needed to write a blog post. I decided to take this idea and turn it into a New Year's post. I came up with a thought-provoking, attention-grabbing way to word my resolution: I have decided to be less intentional.
- That post inspired comments. Those comments took my loose idea and turned it into a conversation. That conversation honed and solidified what I was thinking, which resulted in another post, originally called The unplanned-party-approach to life.
- Today I was thinking about how lame resolutions are when they can't be evaluated and measured in some way. I was also thinking about the comment Deb left on my post. She was intrigued by the concept of being less intentional, and said "I'll be following you to see how it is working for you." Accountability! Yes!
- I came up with the idea of regularly sharing stories about my attempts to be more open, and to connect those stories into a series, of sorts, with a recognizable headline style. I changed the headline of second post to "Exhibit A: The less-intentional party," and imagined what I might write next ("Exhibit B: The less-intentional Bible Study," and maybe "Exhibit C: The less-intentional Saturday").
- I wrote this Tweet: thinking about how to take my new year's post about being less intentional & make it into a series, reporting on my attempts & successes.
Oh wait. I'm back where this post started (and I hope you haven't nodded off along the way). What was the point of this exercise again? Right.
I feel pretty good about the organic-yet-solid way I got from my original idea to where I'm at now. I also think it's possible for me to practice letting go. But maybe that's not a universal thing—maybe it's just because I know myself and my tendencies. I even know how and when to self-intervene, if I put my mind to it (which is exactly what I've decided to do).

But since we're back where we started, by all means, please join the discussion! Do you think people can make plans to be more open, or can it only happen spontaneously, in the moment?

Similar Posts: