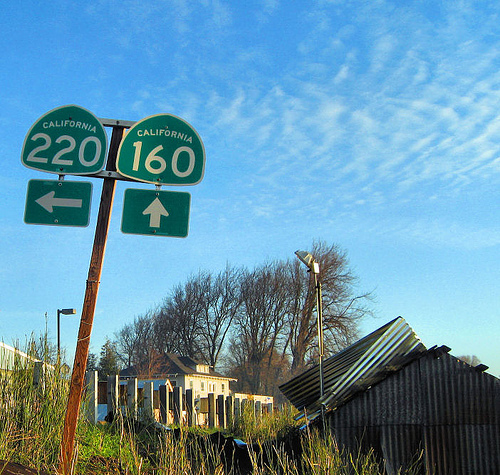 If you've spent much time here, you've probably noticed that this blog is basically a laundry list of things I didn't expect in my life. Luckily all of those things are woven with stories, which is probably what makes the blog worth reading.
Anyway, here's something I must add to the list: I didn't expect to ever know a former teenage runaway who was eventually taken in by the Hell's Angels. I certainly didn't expect such a person to be my mother-in-law.
See? I told you in my previous post that my mother-in-law is one-of-a-kind. You thought I just meant she was a talented artist, or she baked amazing cakes, didn't you? No, her story is a whole lot more interesting than that.
How a girl named Frankie Jean got a new name
I'll kick the narrative off by saying that my mother-in-law was not given the name "Mary" by her parents, when she was born in Northern California in the 1950s. She was given the name Frankie Jean.
I know—I would change that name as fast as I could, too. But Mary didn't change it. The Hell's Angels gave her the name Mary when they took her under their wing (nice eh? Angels and wings). They also got her a new social security card, and she's been Mary ever since.
Mary had good reason to persist in her efforts to run away from home. She tried several times before she finally succeeded. She is nothing if not determined.
Eventually, she arrived in Chicago and decided to stay awhile. She was spare changing on the street when she met Tim, my father-in-law. He was handing out fliers to an event organized by Rising Up Angry. I don't know if Mary thought Tim looked extra fine, or if she just knew she was angry and might as well meet some other angry people. Whatever the inspiration, she went to the event, saw Tim there, and the rest is history, as they say.
My husband: a product of sweet rebellion
Tim has an interesting story in his own right. He grew up in one of Chicago's most affluent north suburbs, and went to what's still considered one of the best public high schools in the country. About a month before he graduated in 1970, the Kent State shootings happened, and Tim dropped out of school. He couldn't see the point of having a degree when everything seemed to be falling apart.
In some ways, I'm sure that hooking up with a spare-changing runaway was the perfect frosting for Tim's rebellion cake, but he and Mary are still married, so there was clearly more than rebellion at work.
Mary's life certainly improved after meeting Tim, but it was never easy-breezy, to say the least. They had very little money, even though they had a variety of jobs and Mary made some money arm wrestling in bars (true story).
While Mary's body struggled with alcohol and drugs, her heart and mind struggled to reconcile a lot that had happened in her past. She had a baby back in California to retrieve, along with family she had to deal with. Then in 1975, she had another baby—my husband, Jason. Mary and Tim eventually got married, and later had Jason's sister.
When Jason was in elementary school, Mary began working on the futures floor of the commodities market in Chicago, eventually working her way up into a career she's had ever since. When Jason was 10, his parents were able to move their family out of a moderately dangerous Chicago neighborhood to a modest South Evanston neighborhood with good public schools. They started going to an Episcopal church, too, and Mary hasn't had a drink for more than 20 years.
Just what I needed
Clearly, I don't need to explain why I decided to tell Mary's story. It has all the elements of a great story.
But it also intersects with my own story in important ways. I'm not just talking about the fact that Mary and Tim made this baby who seems to have been put on this earth just for me to spend my life with.
In the years leading up to when I met Jason, in 2005, I was feeling really crappy about myself and my life. Part of me was wanting desperately to be the person everyone seemed to think I was: happy, put together, lucky, and just plain good. Another, even bigger part of me was dying to make peace with who I really was, while worrying, deep down, whether that kind of person could be loved by the people I wanted love from.
So can you imagine what it felt like to meet Jason, and the wonderfully loving, fun, and messed up family he came from?
It felt like love and complete acceptance. It felt like freedom—like nothing I could say or do, let alone anything I had ever done, could shock or upset them.
It also made me really believe something I was just beginning to grasp: that the difficult messes we face ultimately save us, in the end. They save us from being oppressed and silent. They save us from being mediocre and false. They save us from staying where we are simply out of fear, or lack of inspiration.
Which, of course, is why we have to keep telling our stories.
My wonderful mother-in-law, Mary
Similar Posts: