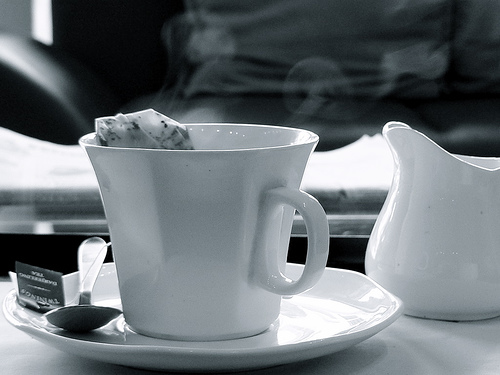 The past two weeks, as the focus of Chuck Westbrook's Under-appreciated Blog Project, have been really amazing. I've met many new colleagues and friends who have commented here and found me on Twitter. You've all engaged me in many new conversations and ideas, and I've seen my blog begin to become the kind of interactive community I've always hoped it would be.
I love the feedback and compliments, of course, but what I love even more is when you push me to think, and when you add richness and texture to my stories with your own stories. The back-and-forth interaction has made me wish, many times, that I could sit down and have a cup of coffee and real conversation with each of you.
In the spirit of that wish, I'd like to try something I've never done here (although other bloggers have certainly done it). I'd like to invite your questions, and I'll do my best to answer them in a post this weekend.
What would you ask me if we sat down to have coffee together (or tea, if you prefer)?
You can ask what I learned about love and marriage through divorce, or about my greatest parenting challenges. You might want to know what I like on my pizza, or where my daughter's names came from, or how I define a perfect Saturday morning. Or go ahead and ask how I deal with certain messy issues in light of my beliefs and faith, or what I like least about myself.
I'll do my best to answer as honestly as I can, trusting that being real and open with you will reap great rewards as we all feel more open to being real. You can leave your questions here, as comments to this post, or can email them to me or DM me on Twitter.
But here's the challenge to you. I've been tagged so many times on Facebook for the 25 Things meme, that I've lost count. As I was thinking about opening myself to your questions, I had the idea of asking for 25 questions. My answers will become my 25 Things list. (I know—I'm being both sneaky and lazy, eh?)
Think it's possible? Am I crazy to think that 25 of you are really interested in knowing something about me? I guess I'll find out.

Similar Posts: