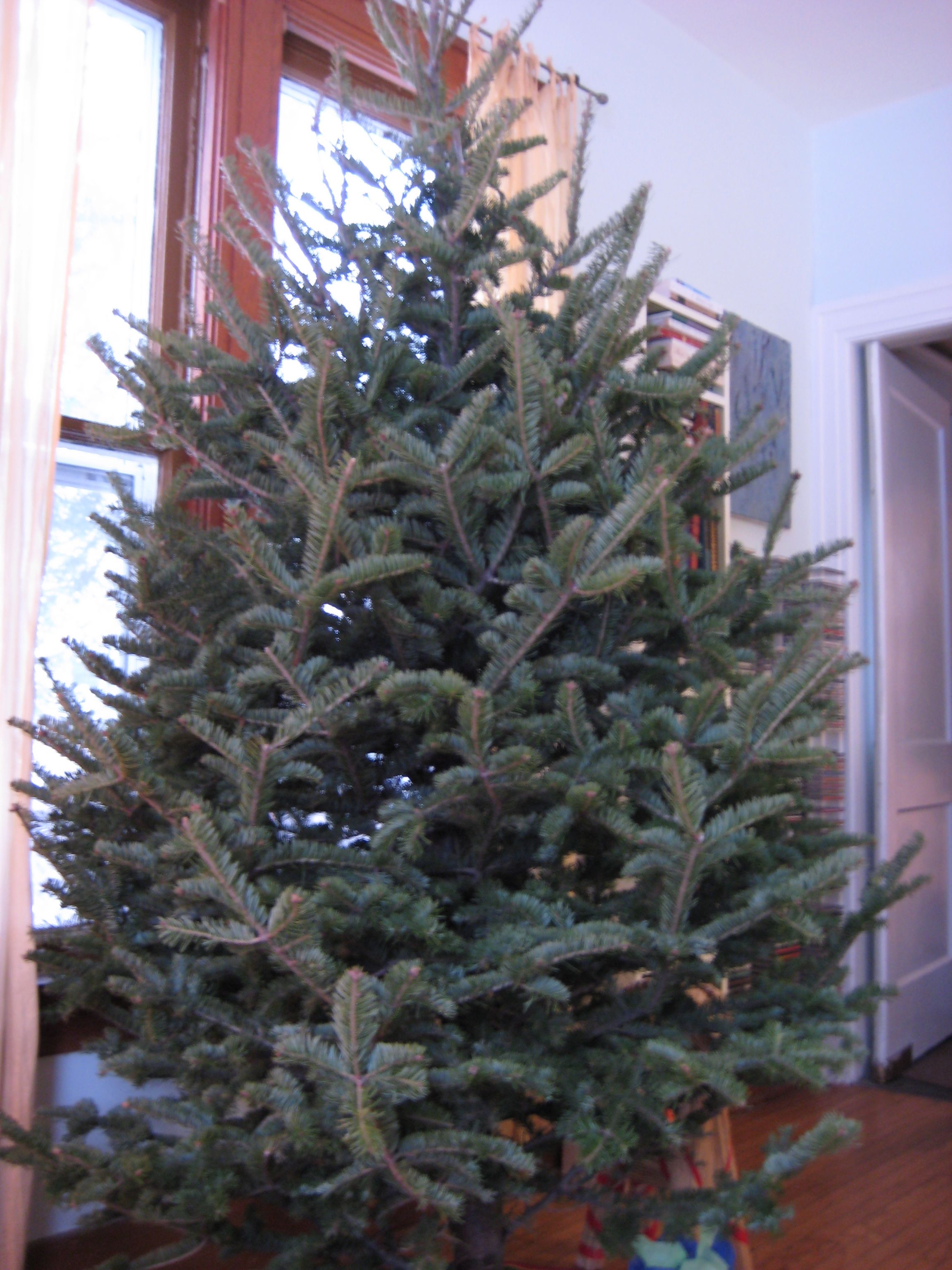 Last Saturday afternoon, we put up our Christmas tree and then I updated my Facebook status:
Kristin loves having a pre-ornamented tree in the house.
The "naked" tree was so natural and fresh-smelling. Without the lights and ornaments, it somehow looked like it was growing up out of the floor, making its presence in the living room even more exotic and surprising.
Not soon after my status update, Becky commented:
what does that mean? it came with its ornaments? you really love it? The girls did it while you were at your reunion?? Enquiring minds want to know!!!
Ah, yes. "Pre" can mean "before" or "already." Even though I was sitting there looking at the tree, and knew exactly what I was referring to, my words were unclear. I tried to straighten things out, and Becky responded:
so funny. no, I meant I love having a tree in the house BEFORE it's decorated. you know–au-naturale, at least for a while.
OH!! that makes much more sense and seems way more you!! phew!! I thought you'd been body snatched…
What do you mean, she'll never grow up?
Words and syntax are funny, complicated things. My friend Kellee devotes her entire website, The Tongue Untied, to grammar and punctuation, and how carelessness and misuse can lead to serious confusion. (If you've ever read the book Eats, Shoots & Leaves, you know what I'm talking about.)
Many of these misunderstandings are pretty funny, if you look at them from the right angle. Here's another exchange that happened to me just this week, on Twitter. (Keep in mind that MomsterGina and I have never met, and we just recently started following one another on Twitter. I know, Twitter is strange.)
kt_writes: on our walk to school this am, my youngest told me "I want to be able to grow up." so honest & self-aware. so heartbreaking.
MomsterGina: Curious, why does your [daughter] think [she] may not grow up?
kt_writes: she's the youngest of 3, and she doesn't want me to walk her into the school any more. wants ME to let her grow up. :(
MomsterGina: Oh! I totally took that as she had some terrible illness and wasn't going to grow up or…? I'm dramatic.
Dramatic indeed! (Plus MomsterGina is pretty funny.) But just like with the bare, au-naturale tree sitting in my living room as I typed on Facebook, I had a visual to work with that my Twitter followers couldn't see: my healthy, vibrant, eight-year-old daughter holding my hand and skipping down the sidewalk to school in her clunky, hand-me-down boots. Of course I wouldn't, for a second, think my tweet could be interpreted literally—that somehow she wasn't going to grow up. But I can see how someone else might think that, particularly because I exaggerated when choosing the word "heartbreaking." Watching your littlest child get big is bittersweet, but there are certainly many things in life that are much more heartbreaking.
Why we mess up and what we can do about it
When you make a living as a writer, like I do, it's easy to get over-confident about your ability to say what you mean. But I still manage to be unclear. And when I'm called on it, I probably feel more stupid than the person who makes a living as, say, an accountant or landscape architect.
Facing these miscommunications, no matter how small, is not only humbling, it's very important. It makes me think about the two posts I wrote earlier this week about people who try to communicate big things on little signs: "Make love, not signs" and "Vacuum cleaners, signs and Jesus." Miscommunicating can hurt and do damage.
There are a number of reasons signs may be prone to miscommunication. One is the limited amount of space a sign gives to say what you need to say. That clearly came into play in my recent Facebook and Twitter foibles.
But the bigger issue, I think, is rooted in how far-removed we can be from the perspectives of others. When I have something tangible right there in front of me—whether it's my Christmas tree, or my daughter, or evidence of God's grace in my life—it's easy to make a lot of assumptions, which can leave plenty of holes in my efforts to communicate. It's important for me to remember that Becky and MomsterGina and people like Ryan (from the "Make love, not signs" post) aren't always seeing what I'm seeing.
And that's where conversation becomes critical. Because we're always going to say it wrong from time to time, no matter how careful we try to be. It's important to say (and to hear others saying) "I don't get it," or "What did you mean?" It's even important to say and hear "I don't like how that was put. It makes me feel crappy."
Then we can back up a bit, talk and listen some more, and try to get it right from there.

Similar Posts: