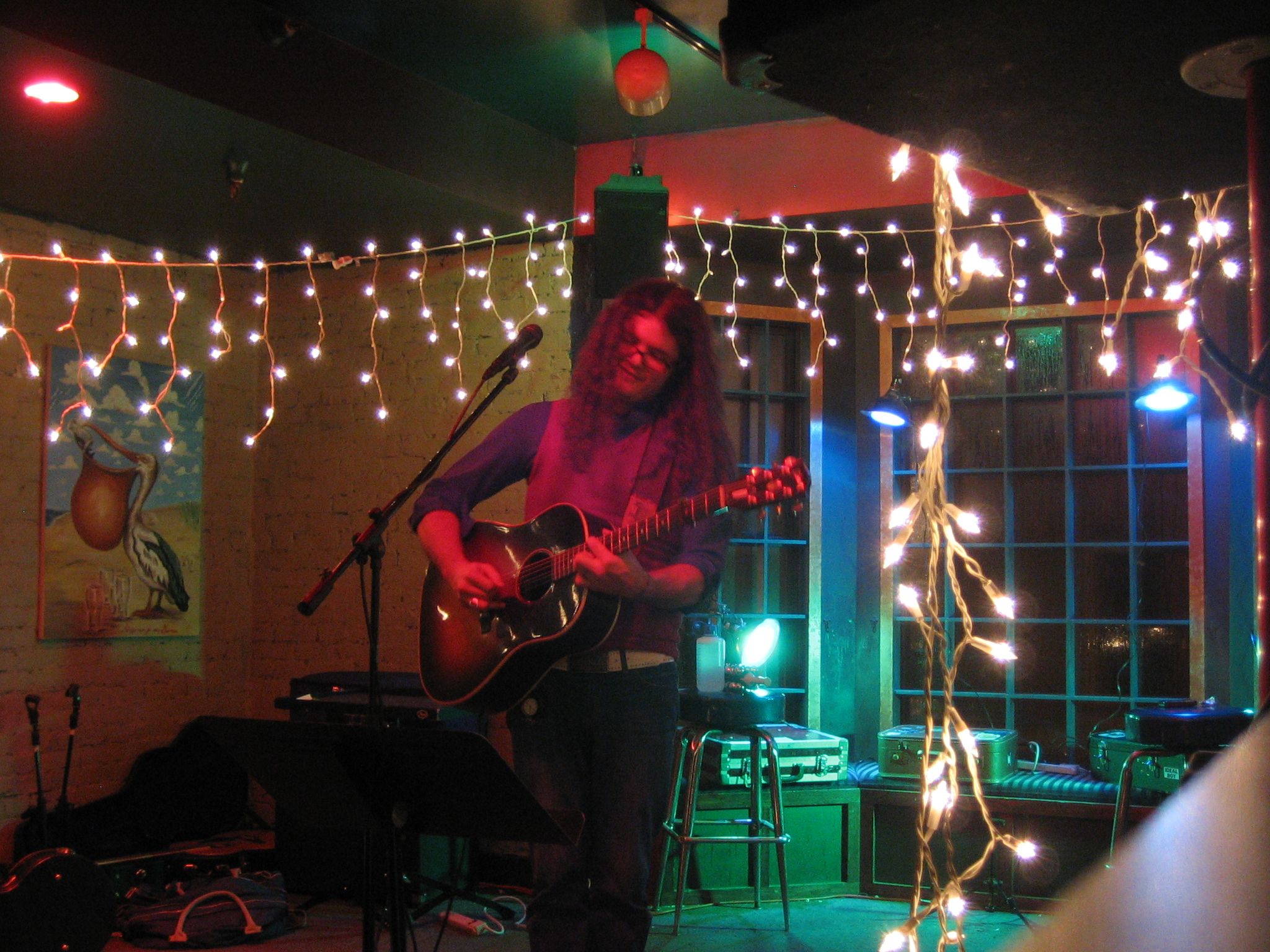 Photo of Ryan at Mike-n-Molly's by Jason Berg
Yesterday I wrote one of my Christians Against Christians posts, about a sign in a vacuum cleaner shop that really enraged me. (God, vacuum cleaners and signs)
Later, that same night, I encountered another sign. Actually, I encountered a story—a real-life reaction to a sign—which is what it's really all about in the end.
Jason and I were out hearing some local musician friends play a show at a bar. It was holiday-themed, so each of the four bands were playing a couple of holiday songs along with their usual stuff.
Ryan, a good friend of ours, played last. When he was ready to shift gears to some holiday tunes, he said something like this (I'm paraphrasing, and yes, he said I could share it here):
Almost every day I pass by the Presbyterian church, and on their sign right now it says "Is Christ in your Christmas?" Well, my grandpa, who was a Christian minister, was the biggest a**hole I've ever known. So I don't really want Christ in my Christmas.
Ryan went on to say that he really resented that sign being there every day, in his face, trying to push something on him he doesn't want, and tell him what the holiday season should mean to him.
The whole thing made me feel terrible. In a good way—not terrible about myself, but terrible for him. That's compassion, I guess. Ryan is the most loving, generous, optimistic friend a person could have. He thinks a lot, he's open and reflective, and he shares it all with others, through his music and in his life. He's on a journey, just like the rest of us (and he's much more actively on the journey than many people I know).
Then a stupid sign has to get all up in his face.
I don't blame Ryan for a second, for feeling the way he does. I don't know much about his grandfather, but I do know that some of the people I have despised most profess to be Christians (and, of course, some of the people I love and respect most are Christians, too).
I also don't blame people—certainly not churches…but I'm not sure about vacuum cleaner stores—for wanting to share what they believe and urge people to think. Thinking is good. Especially during an over-commercialized holiday in a world that's pretty messed up. And there are certainly plenty of signs out there that are far more aggressive than "Is Christ in your Christmas?" (The one I wrote about yesterday, for example: "Only Jesus Can Prevent Eternal Fires.")
Where's the compassion in a sign?
My point isn't to blame or defend anyone. My point is that these types of signs—whether they're more or less offensive—usually don't point to Jesus, compassion or love. They more often point to judgmentalism and hypocrisy, and sometimes rely on fear mongering.
Too many Christians, it seems, are focused on the wrong things, and I think that stems from being too far-removed from the perspectives of others. What would Christianity look like if everyone was at least trying to imagine how their words affect people? What if everyone actually took the time to find out, by having real, caring conversations with as many people as possible?
I'm generalizing, of course. Plenty of people are having these kinds of caring conversations. And maybe (but I kind of doubt it) some of those same people are in charge of deciding what messages to put on the signs.
But in most cases, it feels like Christians who are putting signs up on the side of the road are just taking the easy route—the quickest way to check "Share the gospel with others" off their to-do list. And I honestly believe a lot of these churches, when they decide what to put on their signs, are shrugging, and saying "Who knows if it will help, but it can't hurt."
Obviously it can hurt. A lot.
Living like Jesus instead of putting up misleading signs
Jesus made love, not signs. The kind of love Jesus made, of course, was the Agape sort, and we're never going to have much luck accomplishing love like that. We can, though, be more intent on living like Jesus than we are on talking about him. We can at least start creating honest connections with others, by being ourselves and being compassionate.
Personally, I would love to see all the signs just go away.
If you're a church, though, and some kind of a sign seems like a good idea, how about communicating something like this: "Our doors are open if you need food, friendship, help, or just someone to listen." Or maybe this: "We're on a journey, trying to figure out how God is working in our lives. Everyone interested in this journey is welcome to join us."
I realize they're not snappy or clever ideas. They're just more honest, and that seems like a good place to start.

Similar Posts: