Here are the tweets (micro-blog posts of 140 characters or less) I wrote between yesterday at 3 p.m., when Jason and I got on the road to Chicago, and today at 3 p.m., when we returned to our much smaller and less chilly town.
One of the reasons I like Twitter is it offers a writer's equivalent of an artist's quick pencil sketch—the essence of the story or scene. Another thing I like about Twitter is the interaction it invites.
I think this series of tweets and replies (from people I know in "real life" and some I've met only on Twitter) offers good examples of both.
Thursday afternoon, December 4
- kt_writes: just finished a conference call with two GREAT clients. now getting on the road to Chicago.
- kt_writes: on 57 north, reading the ridiculous guns save life "poems" the farmers like to display at the edge of their fields. (3:50 p.m. Dec. 4)
- kt_writes: stopped at mcdonalds to use the bathroom (herein lies my love-hate relationship w coffee) & they were blasting hip hop. took me by surprise.
- kt_writes: close enough to the Chicago loop to be down to 20 mph. heading straight for the "serious tower," as the girls used to call it.
Thursday evening, December 4
- kt_writes: hmm…it's 21 degrees in the Windy City, and I want to do a bit of shopping. trying to decide how dedicated I am to the concept…
- kt_writes: I'll never cease to be amazed by how bitter cold this city is, or by the # of people who refuse to wear hats.
nmp620: I used to be one of those people who refused to wear a hat.
- kt_writes: getting ready to go out, and I'm taking forever. in a stupid way, not a luxurious way.
- kt_writes: in some crazy, steamy piano bar w half of Chicago, everyone singing along to Dancing Queen. wow. I wasn't ready for this.
nmp620: I have a piece of flair that reads: "I dream of a world where people spontaneously erupt into choruses of Dancing Queen."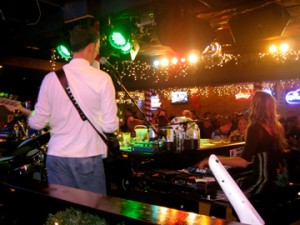 Thursday, after-hours, December 4 & 5
- kt_writes: moving on to the next place. the entire outdoors smells like chocolate, like someone organized a city-wide brownie bake-off.
Wordydiva: I bet I know kind of where you are…
smussyolay: i call it 'the big cookie.' i'm "in the big cookie." it's blommer's.
smussyolay: it always makes me happy to be in the big cookie. actually, they were in trouble for chocolate air pollution!
kt_writes: aha! I don't know how anyone who's in that hood on a regular basis can stay thin. just breathing makes you crave chocolate.
- kt_writes: now eating fries & drinking a martini w blue cheese stuffed olives.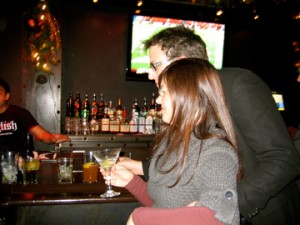 Friday morning, December 5
- kt_writes: SO hungry. J brought cereal & coffee up to the room. how lucky am I?
- kt_writes: bright, cold morning in Chicago. getting ready to head out for 2nd breakfast at the Bongo Room. yum.
nmp620: My old hood! I used to live at 1324 1/ N. Milwaukee. I'm sure it doesn't exist or if it does, it's probably no longer a rat hole.
Friday afternoon, December 5
- kt_writes: goodbye big city. back home, I go to a cafe to get some work done & see 5 people I know well. none of them are at the cafe together, either.
Similar Posts: