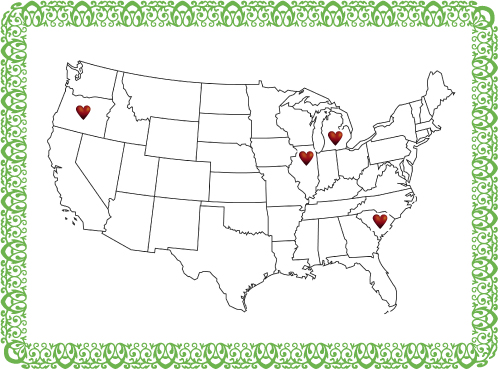 When I was growing up, there was only one definition of family on Christmas: my mom, dad, brother, grandparents and me, in Michigan. Even into my early adulthood, it was hard to imagine it any other way.
Then I got married and started spending every other Christmas in un-Christmasy Florida with my husband's family. Eventually, my brother moved far away to Portland, and began spending many of his Christmases out there. Then I had children and started looking at Christmas from the perspective of a parent rather than a child.
When my girls were five and three years old I got divorced, and what defined my own little nuclear family changed in heart-wrenching ways (as I wrote about in I'll take a side of sadness with my cheer). Now I have a new husband, along with a new family, to incorporate into holiday celebrations.
In other words, life happens to Christmas, just like it happens to our ideas about tradition, "normalcy" and family.
As Jason and I made various phone calls to people we love on the 25th, I thought about our family, and what defines any family. There is no definition, really, so I'll just share a portrait of one family on Christmas day.
St. Johns, Michigan
My parents woke up alone in the house, their children and grandchildren all far away. They drove to the nursing home to visit my 93-year-old grandma, who isn't well enough to leave, and to pick up my 94-year-old grandma and bring her back to their house. By the time I called to with everyone a Merry Christmas, my best childhood friend Rhonda, along with her husband and their two kids, were arriving to spend the day with my family. Rhonda's parents both died several years ago, and last month her last true relative, Aunt Georgia, also died. Rhonda's kids call my parents Grandma Joi and Grandpa Bill, and together, they all created a family, enjoying food and conversation together on Christmas day.
Portland, Oregon
After shoveling his car out from Portland's biggest snowfall in 50 years, my brother Bill drove across town to spend Christmas with his girlfriend and her mom and brother. His relationship with his girlfriend is only a few months old, so while he really enjoys her family, he doesn't know them well or have a history with them. When he called me on Christmas evening, I was 1,800 miles away, heading out for a wintry walk with Jason, his mom and our nephew. Bill seemed very far away, but we discovered we had both eaten a beef roast for Christmas dinner, even though when we were kids, our mom always served ham.
Greenville, South Carolina
More than 500 miles away from me, my daughters were playing with their cousins at their aunt and uncle's house. When they called to tell me about their day—what they ate for Christmas breakfast, what they got in their stockings, how their grandparents and two other cousins surprised them by driving up from Florida—I thought how odd it is that this family used to be my family too, pre-divorce. I struggled to connect their reality with mine. Hearing Q's and S's voices, little bundles of personality and affection delivered through phone lines, made me as happy and sad as a person can be in one moment.
Chicago, Illinois
While Jason and I spent the day with his mom, dad, sister, nephew and uncle, my stepdaughter H celebrated Christmas with her other family, in a house not far from us. She also visited the emergency room, where she was diagnosed with Scarlet Fever, which meant she wasn't able to spend the afternoon and evening with us as planned—my father-in-law is in remission from leukemia, so it was too risky. Instead, we got phone updates throughout the day, while H rested at the home of her other grandparents, with her mom, her mom's partner and their baby.
As the day drew to a close, we made one last phone call, to Jason's brother. He didn't answer his phone, so we all shouted a Christmas greeting via voicemail, doing what we could to connect, but feeling the inadequacy.
I thought about the day's phone calls and about family—what it looks like, what defines it, and how we fashion it as best we can, when and where it's needed:
My parents, celebrating warmth and connection with their "adopted" children and grandchildren, instead of their own.
My brother, so far away, spending the day with people I've never met, but eating a Christmas dinner similar to mine.
My girls, creating new memories with people who will always be important to them, but who are no longer a part of my life.
H, with one of her four sets of grandparents, two of her three moms, and a brother who is not related by blood, but who she's known since he was born.
And me, missing my biological family—my children and parents and brother—but grateful for Jason, for a sister like I've always wanted but never had, and for new parents, who make me feel comfortable and loved.
My Christmas was far from ideal, but it painted a clear picture of how blessed we are, in this imperfect world, that family can take so many forms and fill our voids in so many ways.

Similar Posts: