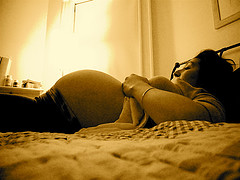 It's a fairly established fact: politics, religion and sex are The Big Three. They're the topics we're not supposed to bring up at big family events or parties—the ones that make people sit up and take notice or squirm (or both). They each carry a lot of weight individually; when they're combined into a single discussion it's explosive.
That's probably why I haven't been able to stop thinking about a New Yorker article I just read: "Red Sex, Blue Sex: Why do so many evangelical teenagers become pregnant?"
While I'm not an evangelical, I am a Christian, and I know a thing or two about how religion shapes our earliest understanding of our sexuality. I also know something about the kinds of consequences those perspective can have down the road. I actually blame my divorce, in part, on some of those understandings, but I'll get into that later.
Being the mother of three girls, ages 8, 10 and 12, also makes me extremely interested in this subject. Our youngest began asking questions about how babies were made more than a year ago, soon after Jason and I got married. Her logic was "you're married so that must mean you're going to have babies soon." She's a scientifically-minded girl, so we decided it was time to get technical in our explanation of baby-making and birth control.
At any rate, all three of our girls are inquisitive and somehow exceptionally cute, so Jason and I are already bracing ourselves for when they're 12, 14 and 16. We do not take the subject of sex education lightly, and we're convinced there must be a better paradigm for sexuality than the one most Christian children are inheriting from their parents.
Pregnancy & marriage statistics are tied to red & blue states
What I found so fascinating about the New Yorker article was how clearly the statistics back up what I've long suspected. The five states with the highest divorce rates, the youngest marriage age, and the most teen pregnancies are all traditionally red states (by traditionally red, I mean pre-Obama, 2008). When you reverse the statistics, you get all blue states, with the exception of North Dakota, which had one of the five lowest teen pregnancy rates.
Here's how the article's author, Margaret Talbot, summarizes the red state-blue state divide when it comes to teenagers, sex and pregnancy:
Social liberals in the country's "blue states" tend to support sex education and are not particularly troubled by the idea that many teenagers have sex before marriage, but would regard a teenage daughter's pregnancy as devastating news. And the social conservatives in "red states" generally advocate abstinence-only education and denounce sex before marriage, but are relatively unruffled if a teenager becomes pregnant, as long as she doesn't choose to have an abortion.
My own story, and the one I want for my daughters
As someone who grew up in a blue state and a "blue family" that went to church every Sunday, my own experience fell somewhere in between the extremes. The biggest problem, looking back, was that sex simply wasn't discussed much—at church, home, or school for that matter.
I knew, though, that my parents would be greatly disappointed in me if they knew I had sex before I was married. I also connected that viewpoint to their religious beliefs.
It follows, of course, that living with my college boyfriend after we graduated was also not going to be OK, which is the main reason I got married at 22. How long can healthy young adults be expected to exist without sex? Or how long can they sneak around trying to hide the fact they're having sex, whichever the case might be?
I know LOTS of people who married young for essentially the same reason—they were either tired of waiting to have sex or they were tired of living a lie and feeling guilty about it. My second husband, Jason, is one of those people, too. Unfortunately, as the New Yorker article points out, "women who marry before their mid-twenties are significantly more likely to divorce than those who marry later."
That doesn't mean everyone who gets married too young gets a divorce, or that I directly blame my parents or our religious beliefs for my early marriage and divorce. It does mean, though, that encouraging my daughters to not get married too young is a greater priority to me than encouraging them to hang on to their virginity, at all costs.
Encouraging waiting, while promoting "sex is good!"
It is also very important to me that our kids understand their sexuality as a good thing, not a bad thing. When parents pound the "sex is bad" idea into their kids' heads, in an attempt to convince them to avoid it, it can seriously backfire. Not only does it not keep them from having sex, but it develops in them a deep sense of shame and guilt in relationship to their sexuality. I suspect that issue played a complex, negative role in the problems in my first marriage, too. It's time for churches to break the guilt-spreading cycle!
There's no doubt that this issue is more complex even than it was when I was growing up. Here's another good summary of the problem from the "Red Sex, Blue Sex" article:
Like other American teens, young evangelicals live in a world of Internet porn, celebrity sex scandals, and raunchy reality TV, and they have the same hormonal urges that their peers have. Yet they come from families and communities in which sexual life is supposed to be forestalled until the first night of a transcendent honeymoon.
It's confusing. I do really want my daughters to wait—to respect their bodies and their sexuality, and to take every decision they make very seriously. I want them to be extremely cautious and safe. I don't, however, want them to mess themselves up in the process of waiting.
So I'm not sure how I'll tackle the problem with my girls in the coming years. What I do know for certain, though, is that not talking about it is not the answer. Continuing to blindly present sex to our kids in the same way it was presented to us in our churches and homes and schools is not the answer, either.
Honesty and lots of information are always good places to start, as parents. Maybe I'll just say to my girls something like this: "I love you so much, and I want the best for you. It's really complicated. There are so many angles to consider, some which will affect you now, and some which will affect you down the road. Here's how I messed up, and what I learned. Here's a vision of the hopes I have for you."
And then maybe I'll let them read this post, too. Is there anything to lose in that?

Similar Posts: