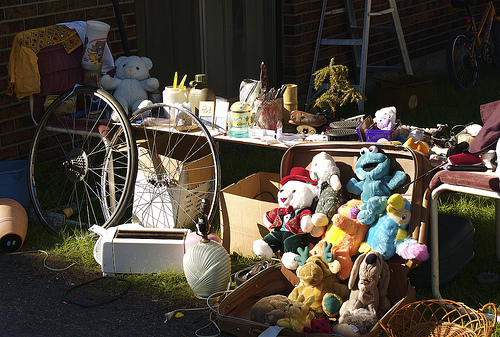 Some days are really good.
The kids wake up cheerful, I have time for a shower, the sun shines, my favorite table is available at the cafe, and the ideas just flow out of me faster than I could possibly process and write them down. Sometimes I even have several days like this in a row.
The last 48 hours have represented the other sort of days.
Everything is difficult and just plain wrong. I'm inefficient, spacey and pessimistic. My hair is suddenly full of static (why is this?), I inevitably chose to wear clothes that I don't feel comfortable in, and apparently I'm walking around with a "Give Me A Hard Time About Inconsequential Things" sign on my forehead.
Oh, and the one thing I can count on about days like this? I won't have a good idea to save my life.
So it kind of stinks that I was feeling an extra amount of pressure to come up with a great post yesterday, before leaving town for Thanksgiving in Michigan. The first 12 hours of the day were a total waste.
I came up with a few blog post ideas, but then flat-out rejected them. They were all clearly flawed.
Welcome to the Island of Misfit Ideas
I started wondering, though, about all of those poor ideas that I so routinely, harshly banish. Remember the reject toys in Rudolph? (OK, they were misfit toys, but because they were misfits they became rejects.) I started imagining a sad island with all of my misfit ideas, never given a chance.
What if there's a nugget of truth or brilliance hiding in one of them, beneath the dull grime? Or maybe an idea is just a sketch, now, but in a year or two I'll pull that sketch back out and base a masterpiece on it? What if?
Some of you might think this is just a lame gimmick for a person who felt like she had to write something and couldn't think of anything good to say. It's quite possible. I'm still skeptical myself.
But for those of you who think there's potential for moments of beauty and brilliance in the common, mundane, and even homely, I give to you: My Rejects.
Exhibit A: Parenting is really hard work.
Rejected on the grounds that some moments are too depressing to share.
There's not much more to say about this, except:
- My daughter and I recently spent a ridiculous amount of time debating outerwear requirements and what constitutes "a cold day."
- We repeated the debate, almost verbatim, less than 48-hours later.
- I eventually realized, as I always do with this daughter, that our argument wasn't really about [fill in the blank] at all.
- And now, once again, I'm feeling a profound sense of dread about my children becoming teenagers in the not-too-distant future.
Exhibit B: Sometimes some Christians almost get it right…
Rejected on the grounds that I might seem cranky and impossible to please.
People seem to like it when I put on my Christians Against Christians t-shirt. They also really respond when I write about sex, like I did a couple of times recently. So when my friend Suzanne pointed out this New York Times article to me, I thought it was post fodder made in heaven.
In my recent post Politics, religion & sex, one of the main points I make is that Christians need to talk more openly about sex. In the article I read today, "Pastors Advice for Better Marriage: More Sex," Christians were talking a lot about sex. So I should be happy, right?
But then I read that the pastor "issued his call for a week of 'congregational copulation.'" Ugh. He also called his Seven Days of Sex idea a "sexperiment." Eeew! In church? And then, he really made me mad, with this:
"If you've said, 'I do,' do it," he said. As for single people, "I don't know, try eating chocolate cake," he said.
Seriously? That's a pastor's approach to sexuality and single people? No wonder people get fed up with churches.
Exhibit C: A humorous take on high school reunion prep.
Rejected on the grounds that it's really not that funny.
This was basically Jason's idea. First, when my childhood friend Jody was DMing me on Facebook to see what I was going to wear to our reunion this weekend (I know—poetic), Jason suggested I go vintage and wear one of my prom dresses (which happen to be at our house…but that's another story).
Then he suggested that we spend the afternoon leading up to the reunion going to all the places I used to go in high school. "Like we could go to Cheddars for mozzarella sticks with marinara sauce and then go make out in the car somewhere?" I asked. "I don't think so."
I just need to face it: The late 80s is not an era I want to recreate, and high school reunions are strange no matter what you wear.
Exhibit D: Going home and being thankful.
Rejected on the grounds that this is SUCH a Norman Rockwell cliche. Gah!
But I am going home, to the very house that my parents and brother and I moved to when I was five. And there's snow in Michigan, and a fire in the fireplace, and my mom's good cooking.
I am thankful for so much, too. I often marvel at how blessed I am to have the parents I have. Both of my grandmothers, in their nineties, are still alive, and we'll get to see them in Michigan. I still can't believe that Jason and I met—that I don't have to wander through life feeling like no one really gets me. And my daughters. They're a triptych of beautiful blessings (yes, even the one who gives me trouble about outerwear).
And all that I am thankful for, as it turns out, looks even more beautiful when viewed from the middle of a few very bad days.

Similar Posts: