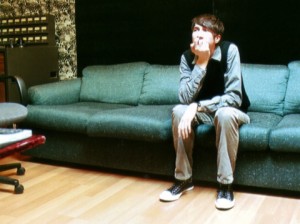 (photo credit and subject: Joe Ziemba)
An essay I wrote is going to be in the upcoming Seal Press anthology Ask Me About My Divorce: Women Open Up About Moving On. (I wrote about it some here and here.) The editor, Candace Walsh, describes how she wants the book to examine this unhappy subject: "…[divorce is] not what we wish for when we walk down the aisle…but if it's the escape hatch into our best life, it can have more promise around it. It can hold more of a space for the positive."
I'm a woman, so the book's gender-specific nature suited me just fine. Somehow, deep down, I also think I've long-believed that women are the ones who really know how to open up about such things in a deep, healing, positive, introspective way.
This week, though, I am a humble woman who's going to push for a second book called Ask Me About My Divorce: Men Open Up About Moving On.
I've always been amazed and inspired by my husband Jason's reflections on his divorce. He just doesn't allow himself to get bogged down in the "what-ifs" and the "whys." His solid, genuine friendship today with his ex-wife is also impressive. Now I have two more heroes to add to my list of men who have made something amazing out of life's messiest messes.
First there's Joe, a guy I worked with when I first moved to Illinois. He was a designer, I was a copywriter; we sat next to each other and eventually became pretty good friends. Back then, in 2001, we were both married. I was pretty miserable, he seemed pretty happy. In fact, his marriage looked rather idyllic and impossibly hip—he and his wife had been in bands together since high school and were in the process of downsizing to a new, two-person band called The Like Young. She played drums, he played guitar, they harmonized and indie-rocked out, making two full-length albums and an EP (Parasol Records).
In 2006, though, The Like Young disbanded—sadly, along with Joe and Amanda's marriage. This past weekend, I received a copy of Joe's just-released solo album, Love at Thirty (under the band name Beaujolais). The Parasol Records promo calls it "A garage rock opera. Conceptual. Personal. Monumental." I agree. Through the album, Joe tells the story of his anguish, anger, processing and eventual divorce in an incredibly moving yet surprisingly non-sentimental way.
Joe has taken a horrific experience and redeemed it through his songwriting, giving the rest of us a taste of honesty and hope that is usually too hard to come by. As he wrote recently to me: "The good news is that, today, I've never been happier. I feel like I've gone through 10 years of growth in 18 months. I viewed the situation as an opportunity to improve upon myself and become the person I've always wanted to be."
Yesterday, on the heels of digesting Joe's lyrics, I read this hopeful blog post by Neil Kramer, another man who's figuring out how to redeem life's messes. Here's how the post, on his blog Citizen of the Month, begins:
I am lucky to have Sophia in my life. She helps me "grow." She teaches me confidence. By nature, I back away from distinguishing myself, about grabbing the most out of life. I have a therapy-sized sense of modesty, insecurity, and need to be liked. But I am 100x stronger than when I first got married.
It's a sweet thing to say about your wife. But it's an amazing thing to say when you're currently separated from your wife, and don't know what will come of your marriage, which is the place where Neil is writing from. Plus he wrote the post on their wedding anniversary, as a response to his sadness and part of the process of pushing through to the other side.
I, for one, am so glad Joe and Neil are where they are, and that they can share it with the rest of us through their writing and music.

Similar Posts: